During these years, live streaming apps are seeing a large spurt of growth. At the same time, many live stream apps are also banned in some countries for different reasons.
In this pots, we'd like to introduce 11 no banned live stream apps for you to enjoy special content. Till now, all of these apps are available on Google Play Store or App Store.
Let's check them!
11 No Ban Live Streaming App
1. BIGO LIVE
Who doesn't know this app? With more than 400 million users, Bigo Live is one of the best and most popular live streaming video apps.
With this app, users can directly interact with other users or streamers. Most of the broadcasters on Bigo are generally beautiful women and talented artists.
Yes, that's probably what many men like, especially adults. Even so, the broadcasters must follow the rules set by Bigo, one of which is not to indulge in nakedness or pornography. And accounts that violate will be banned.
Note: Bigo Live is banned in India, but if you are in other countries, you can download this app.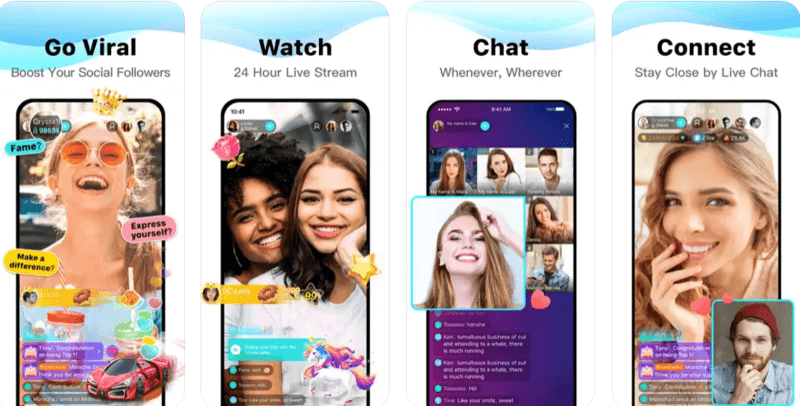 2. LiveMe
Live.me is another no banned live stream app. If you look at all the aspects in this app, it might not be much different from Bigo Live.
Here users can interact directly through comments or talk during the streaming. If the broadcaster succeeds in keeping the viewers entertained, maybe the viewers will not hesitate to give a present to the broadcaster.
Various prizes that are obtained will later be exchanged into money. Seeing this lucrative opportunity, many beautiful female broadcasters are willing to broadcast for hours to entertain the audience.
3. YouNow
YouNow has been downloaded more than 10 million times in Google Play Store and this app is especially popular in United States.
Just like other live stream apps, here you can interact in a room by talking or commenting. The most enjoyable thing is probably when you watch live shows that share your hobbies, such as playing games, guitar, and so on.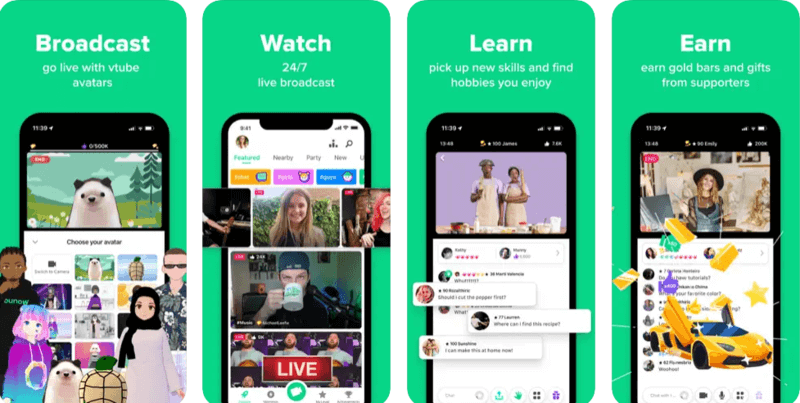 4. Skout
The next no banned live stream app is Skout. This app is basically like the Tinder app, but it can also be used for live streaming.
With this app, you can find friends around you or even from all over the world. Perfect for singles!
Users can also enter the live broadcast room and create their own room to chat or get acquainted with other app users.
5. Mico
The Mico app was launched on June 18, 2014, and has been downloaded by around 50 million downloads.
The Mico app is increasingly popular among millennials as an interesting social media app. With this app, you can live stream, random chat with other people, find partners, share videos & photos, live video chat, and more!
6. Uplive
The next popular live streaming video app recommendation is Uplive.
This app was developed by Asia Innovations HK Limited and has been downloaded by more than 50 million users.
With Uplive, you can meet lots of people with unique characters. Mostly, those who go live to show their singing and dancing talents. This live app also offers exciting online mini games that you can play with your friends. You can also meet famous live streaming streamers from around the world.
7. Tango
Tango is a social media live streaming platform where broadcasters can share moments with crowds or fans. HD video quality is one of its advantages.
The content in this app also varies, not only on topics 18+ but also about humor, sports, music and others. You can choose a topic and connect with various streamers and create a community. If you want to show off your music, singing or cooking skills, Tango is also the right choice.
8. Twitch
Twitch is popular among gamers as a live streaming platform that focuses on games and e-sports. Aside from mobile phone, Twitch makes it easy for content creators to be able to stream games via PC, laptop, PS4, Xbox One, to Nintendo Switch. Pretty powerful, right?
9. TikTok Live
Who doesn't know TikTok? This app is very popular among teenagers to adults. Apart from being attractive with a variety of additive short videos, you can also take advantage of the live streaming feature to have fun.
Content creators who hold TikTok LIVE can interact with their followers who want to take part in the live streaming event. However, it should be noted for those of you who want to broadcast live on this live streaming app, make sure you are 16 years old or older.
10. Mango Live
The next live app in the list is the Mango Live app. This app also has many live streams that have been filled with various beautiful broadcasters that can entertain all of you.
This powerful app allows you to interact with users and streamers from all over the world. You can also watch live streams on a variety of different topics.
Not only as a viewer, you can also start your own live streaming which can be broadcasted to all users or private for only certain people.
11. MliveU
Apart from the Mango live app, there is also an app specifically for 18+ content, namely MLiveU.
In this app, you can find endless 'hot' live streaming from a row of beautiful hosts. It's no wonder this app is so loved!
However, not all live shows can be watched freely because MLiveU presents a Private Room feature that can only be accessed if you open it with coins.
Conclusion
So, from the 11 no banned apps above, which one are you interested in? Instead of being curious, it's better to download and install it directly on your phone. Hurry, while it's still available!