Bigo Live is a live streaming platform where users can watch trendy videos. Almost all broadcast-able content could be found in Bigo Live. The live shows include but are not limited to singing, dancing, PK, game play, story-telling and even English learning. Let me show you the details.
Singing – Meet Aspiring Singers
Singing is a hot type of Bigo Live show. In the "Popular" page, there is a specialized Music Live House where streamers can show their lovely voice. Some broadcasters not only sing but also dance to show their talents. Surely, you will enjoy great performance in this room. If you are interested in music, live video with # music tag is also a good choice for you. Songs with different genres (Rap or Pop Music) and languages (English, Hindi and more) are all available. Also, some streamers' voice is soft and some is penetrative. You definitely will find your loved one.
Dancing – Appealing & Impressive
Dancing usually falls into "Popular" or "PK" category and it seems that dancing is a prerequisite to become a live streamer. Nearly every streamer can dance a little bit. Although there is no a specific area or live room for it, you are actually exposed to dancing when you enjoy your time in Bigo Live.
PK – Fun & Exciting
PK provides a place for two streamers to battle on a specific topic like singing and dancing. Competition drives good content, meaning that you are more likely to come across good live shows in this area. Live PK shows include but are not limited to singing (Rap and Pop Music), dancing and string up puzzle. Usually it will attract large audience due to its fun and excitement.
Game Streaming – For Gamers
In Bigo Live, you can find hundreds of games and game streamers with different broadcasting styles. Both trendy or competitive and casual games are all included such as Honour of Kings, PUBG Mobile, Mobile Legend, Fruit Ninja, 8 Ball Pool and Slither. You don't need to worry that you can't find your favourite game. Besides, in each game, streamers are of different styles and surely you will find your type. Some broadcasters are good at playing game and watching their game play will improve your skills; some are good at developing strategies which will catch your eyes and surprise you; while some are good at cross talking when playing. Learn how to broadcast and watch live games on BIGO LIVE.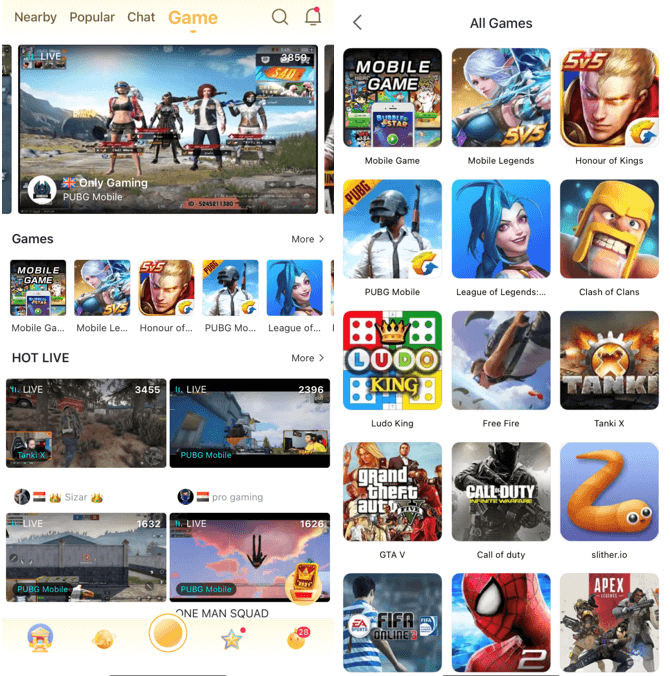 Multi-guest Room – The Social Club
Multi-guest is like a multi-purpose room where people can gather together to play games, chat, sing and share stories or opinions on a specific topic such as friendship, relationship and some trendy issues. The room can hold four, six and nine seats.
In multi-guest room, you can play casual games such as 8 Ball Pool, Draw Something and Werewolf to enjoy yourself. You are free to talk and sing whatever you like as long as the regulations are not violated. In addition, you can hear or share stories such as the last relationship, emotional issues or some confessions.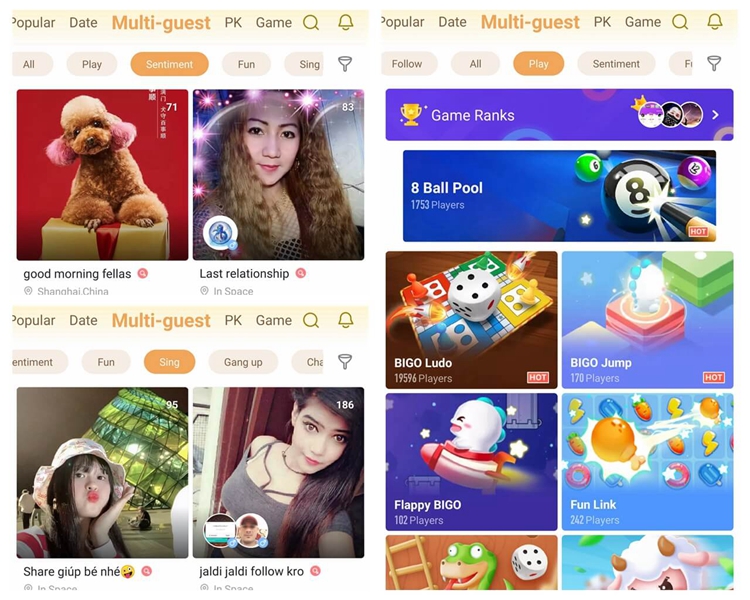 Swipe the sub-category column and look for a topic that you are interested in. Multi-guest area is the most social place in Bigo Live, like a community. Lots of fun and friends are made in this place.
Education Channel – Live and Learn
It is not expected that there is an education channel in live stream app, but thing does happen. English lovers or English teachers are now teaching elementary English in Bigo Live, focusing on improving audience communicative skills. The course content covers greeting, apologies, animals, weather, colours and some basic grammar, which is more interesting and practical than one can learn from school. If you are puzzled about some points, you can type your questions on the screen and it will be answered immediately. Maybe it is the most worth watching shows in Bigo Live for English learners.
It is believed that more elementary courses will be opened in the near future.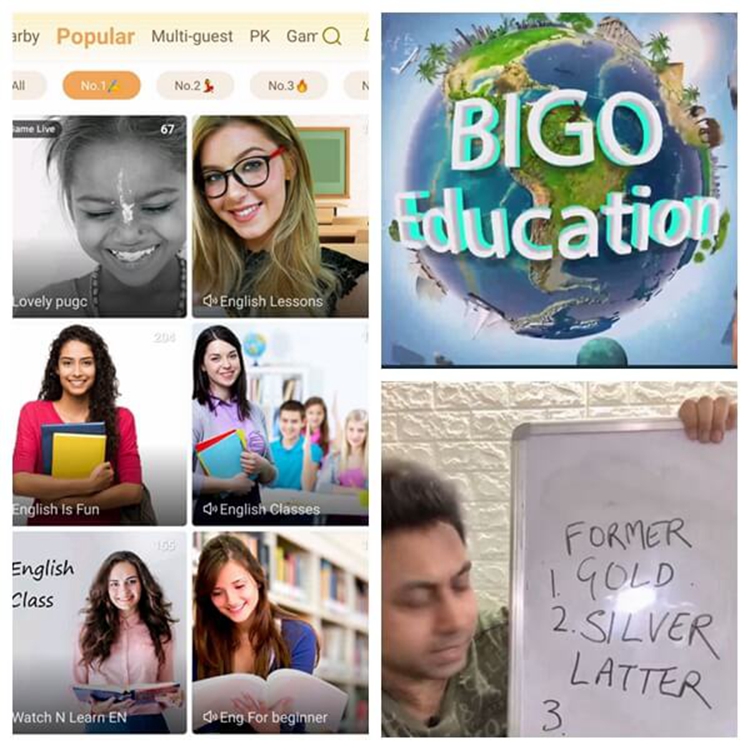 Final Words
Above are some kind of popular live shows that you can find in Bigo Live. There are still some great live videos on Bigo Live. Download the app and explore by yourself!