Twitch is an online video streaming platform whose live broadcasts are viewed by more than 15 million people every day. It enables streamers of all kinds to produce content broadcast live to their viewers while raising revenue from sponsorships, partnerships, and donations.
Be that as it may, but recently Twitch announced to cut the earnings of creators. This have generated a wide and deep debate. The consequences of this bombing have been so great that some are already thinking of moving to a new platform. But what are the Twitch alternatives?
Here, we introduce 6 game streaming platforms like Twitch for both streamers and viewers. Enjoy yourself!
6 Best Twitch Alternatives & Competitors
1. YouTube
YouTube is the main competitor of Twitch.
For a time, YouTube Gaming was an app that existed separately from YouTube. Its goal was to bring the gaming community together on a platform similar to Twitch, where activities such as streaming, donation, subscription, comments on the games, etc. could be carried out. Now, YouTube Gaming became part of the official YouTube app.
YouTubers can now find streams of their favorite games on YouTube app and website. There are videos on demand related to games and game industry news. The user interface and streaming options are similar to Twitch. You can also donate money to streamers and subscribe to individual channels.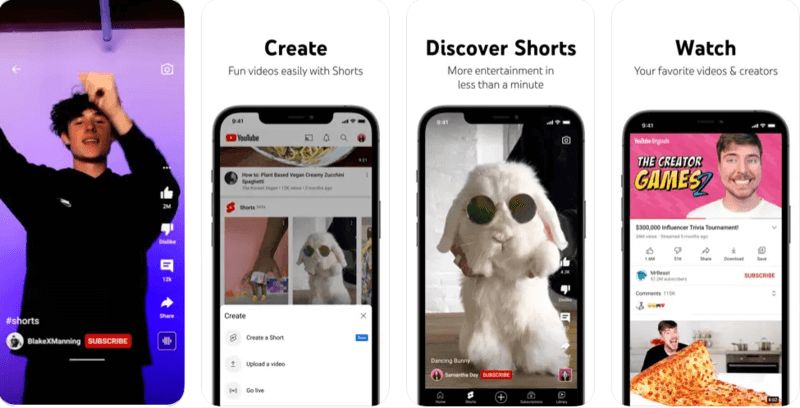 2. Bigo Live
Gaming isn't the only attraction Twitch boasts. Many viewers come to see daily broadcasts, and that's what Bigo Live specializes in. Bigo Live hosts a wide variety of live streams. There are millions of talented broadcasters, dancers, singers, foodies, comedians on Bigo Live to show their talents.
You can download the app now and click on the "Explore" tab to see the type of content currently available on the app and start following certain streamers.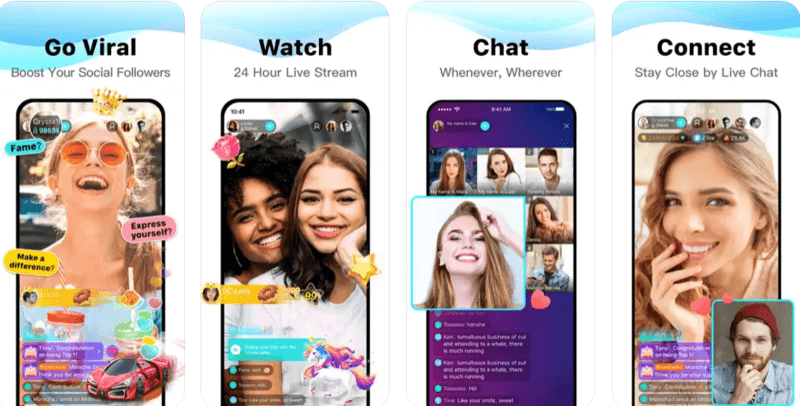 3. Trovo
Another twitch alternative to keep in mind is Trovo.
Trovo is the video game streaming platform, well known and used by small streamers. If you have ever used this app, you will have noticed how similar to Twitch its interface is. It isn't something negative – although it does not add anything new, its familiarity makes it easier for us to interact with the platform in a quicker way.
Trovo is perfect if you are looking to stream video games, since it is similar to twitch, but more simple and monetized.
For viewers, although the user base is currently much smaller than Twitch's, Trovo has a good selection of streamers and games to check out. Click the Games tab to start browsing popular categories.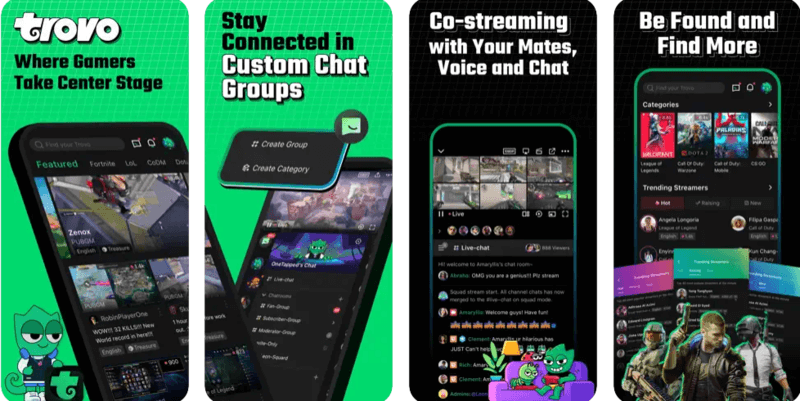 4. Dlive
DLive is a game live streaming platform that is part of the BitTorrent company which uses BlockChain technology. Due to the site's lax enforcement of prohibited content guidelines, DLive has become a popular alternative to Twitch.
The community on DLive is considerably smaller than Twitch. However, with a smaller community, comes a better individual community experience. Many DLive streamers praise the platform for having a tight-knit community, streamers with similar passions connect with one another on a more frequent basis and returning viewers come back more often. As a result, DLive can be a great way for new streamers.
Better yet, the platform is built upon the the Lino Network blockchain, uses its own currency system, and doesn't take a sizable cut of the revenue generated by streamers. This will help streamers to earn more.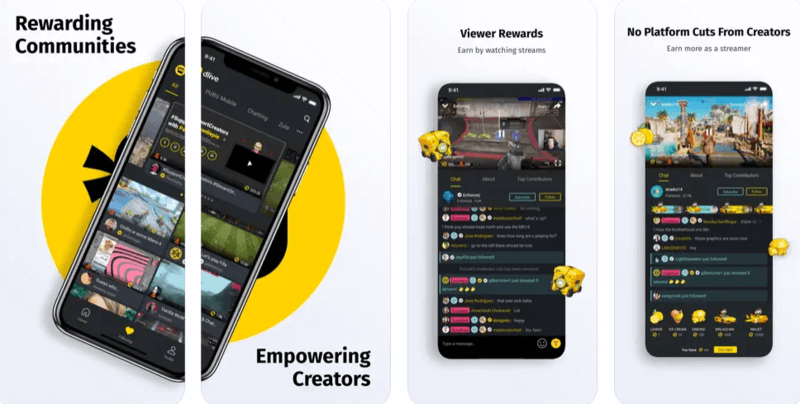 5. Caffeine
Caffeine is a novelty in the world of video game streaming and offers a different experience than Twitch.
First of all, it acts more like a social network than a normal video content platform. There is a feed similar to Twitter or Facebook that you can scroll through until you find something that interests you. You can also connect with other users, watch their streams in your feed, or stream your own content. On this platform, every user is a streamer at the same time.
Its interface is slightly different compared to other streaming platforms. The comment box is not on the side, and comments are displayed in the form of chat bubbles. Users can vote for the best comments which will be moved to the top of the chat box, and your friends' comments will also get priority.
Being a relatively new platform, caffeine is still finding its place and there are things to iron out.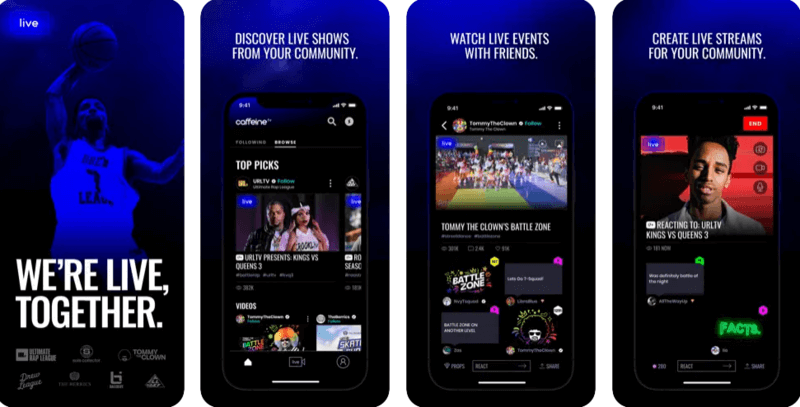 6. Mirrativ
Mirrativ is a completely mobile livestreaming app that lets you broadcast any content on your screen. No need for PC/mic/camera, or any other equipment, anyone can be a game streamer with just a smartphone!
Some of the most popular games that are usually streamed on this platform are Clash Royale, Game of War, Critical Ops, Color Switch, NBA Live, Draft Kings, CSR Dancing and many more.
Just like Twitch, your viewers can interact with you in real time using chat boxes and ask you questions. There is also an option for other users to like the stream and increase its visibility. The platform offers you the possibility of screen sharing.
It's not just limited to streaming services, you can create a vlog, start making friends to enhance your gaming experience, and watch other music videos.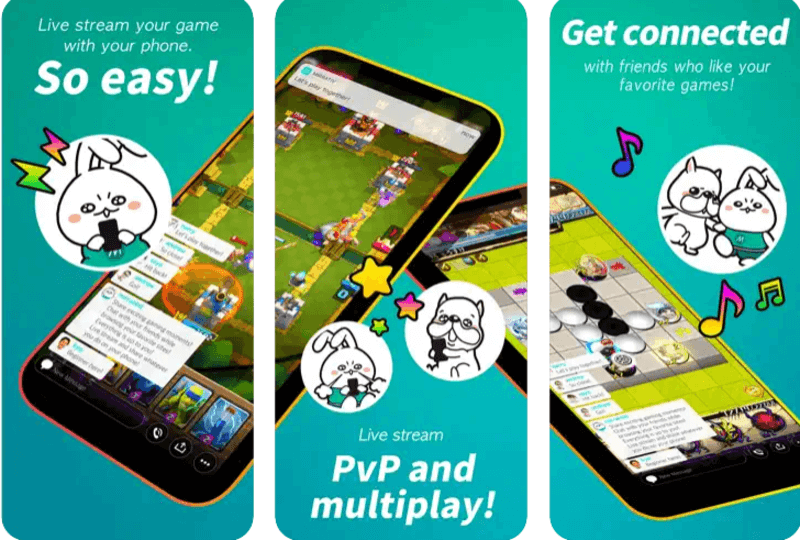 Summary
Though Twitch is one of the biggest streaming platform, many other live streaming platforms is better than Twitch in a certain. In this post, we introduced the 6 most popular apps like Twitch. Most of these apps are specialized in game streaming, but Bigo Live focus on both game live streaming and other types of streaming.
You can download any of these apps and start streaming or watching different live streams now!