In this era of interconnectedness, video chat apps have become the lifeline of communication, bridging the gap between distant loved ones and fostering collaboration across the globe. However, with an ever-growing range of options, finding the best video chat app can be a daunting task.
Fear not! We've curated a list of the 20 best video chat apps that will revolutionize the way you connect. From seamless conversations to innovative features, these apps offer a world of possibilities. So grab your device and get ready to embark on a journey of enhanced communication and meaningful connections.
20 Best Video Chat Apps for Seamless Connections
1. Bigo Live
Bigo Live revolutionizes communication with its blend of live-streaming and video chat capabilities. This platform lets users socialize via one-to-one conversations or group chats through a unique multi-guest feature. A Bigo Live room, which can accommodate four, six, or nine participants, offers privacy controls allowing users to make their room private or public. With a vibrant live-streaming community, users can also receive virtual gifts and monetize their interactions. Bigo Live is perfect for individuals who love socializing through live conversations and content.


Main features
One-to-one video chat
Group video chat with multi-guest feature
Private and public room options
Live streaming integration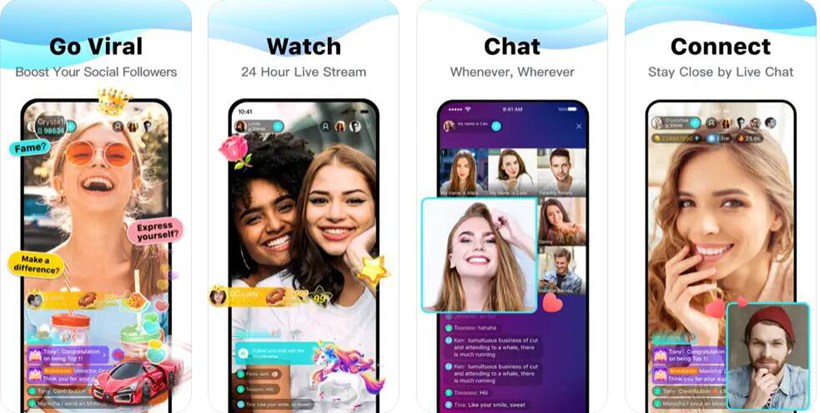 2. WhatsApp
WhatsApp has established itself as a comprehensive communication platform, offering personal and group messages, free video calls, photo, and document sharing. Its distinguishing features are multi-platform availability, including web, and its strong focus on privacy and security with end-to-end encryption. This guarantees that only the sender and receiver can access the content, protecting user data from third parties. Ideal for everyday users, WhatsApp offers a user-friendly interface to stay connected with friends and family securely.
Main features
Personal and group video calls
Messaging and photo/document sharing
End-to-end encryption for privacy and security
3. Viber
Evolving from a voice-calling app, Viber now functions as a messaging service allowing text, voice, and video calls. Unique features include conversation recording, Chat Extension for sharing YouTube and Spotify links, and the ability to retract messages. Perfect for users who prioritize recording their calls or love sharing multimedia content, Viber adds another layer to communication.
Main features
Text, voice, and video calls
Conversation recording
Chat Extension for sharing YouTube and Spotify links
Message retraction for avoiding embarrassment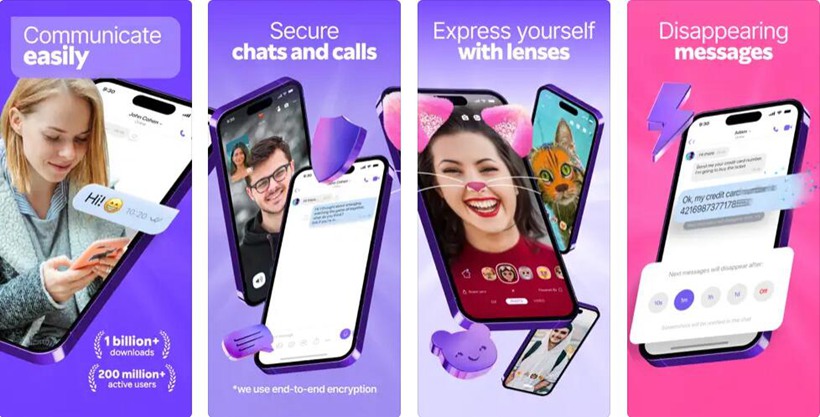 4. Facebook Messenger
Facebook Messenger ranks as a top-tier, all-in-one video chat app. Features range from sending messages and stickers, group video chats, to sharing photos and documents. Additional fun elements include in-app games and a dark mode for reduced battery consumption. Ideal for users who enjoy interactive features beyond basic messaging, Facebook Messenger keeps communication engaging.
Main features
Messaging, stickers, and photo/document sharing
Group video chats
In-app games and dark mode
5. Skype
Skype, a veteran in the video chat apps since 2003, excels in messaging and high-quality video calling. It offers unique features like real-time voice translation and call recording. Plus, it allows users to make phone calls at affordable rates. Skype is an excellent choice for users who frequently interact with international friends or colleagues, thanks to its translation feature.
Main features
Messaging and high-quality video calls
Real-time voice translation
Call recording
Phone call capabilities
6. Microsoft Teams
Primarily catering to businesses and professionals, Microsoft Teams allows up to 100 people in a call in its free tier. Features include screen sharing, background blur, and AI-powered noise suppression. Integrated with Office, Teams is part of the Office 365 plan. It's best for large groups and businesses needing professional tools for communication.
Main features
Business-oriented video chats and meetings
Screen sharing and background blur
Integration with Office 365
7. Google Duo
Google Duo is a simplified, free video chat app delivering high-quality video calls. Its unique Knock Knock feature provides a preview of the caller before answering. If your friends aren't available, you can leave a video message. Google Duo is best for users who prefer an app dedicated to video calls with high-quality standards.
Main features
Simplified free video calls
Knock Knock feature for previewing callers
Video messaging
User-friendly interface
8. Google Hangouts Meet
Google Hangouts Meet is designed for business video meetings, integrating with Google Calendar for easy scheduling and meeting detail sharing. Up to 100 members can join a video call via a meeting code. However, a complete experience requires a G suite purchase. It's an excellent solution for businesses and professionals seeking an integrated meeting platform.
Main features
Business video meetings
Integration with Google Calendar for scheduling
Meeting details sharing
Large meeting capacity (up to 100 participants)
9. Zoom
Similar to Hangouts Meet, Zoom is designed for professional meetings, but with more robust features. It can host up to 500 people in webinars and 300 in traditional meetings, supporting simultaneous screen sharing and recording. It's an ideal platform for businesses and organizations that need to host large meetings or webinars.
Main features
Business meeting platform
Large meeting capacity (up to 500 in webinars, 300 in traditional meetings)
Simultaneous screen sharing and recording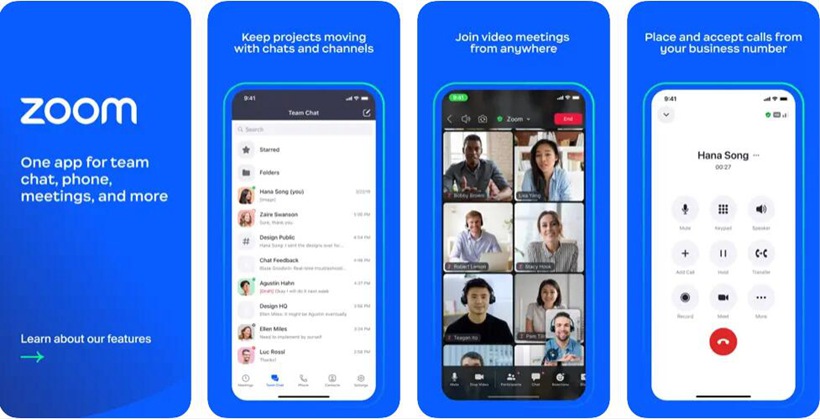 10. Discord
Known amongst gamers, Discord is a powerful platform supporting video chat and game streaming. Users can stream their gaming activities to friends, providing an interactive gaming experience. Discord is best suited for the gaming community or groups that appreciate a combination of video chat and live streaming.
Main features
Video chat for gamers
Game streaming within the app
11. FaceTime
FaceTime is a pioneer in mobile video chatting, preinstalled on all Apple hardware. It supports various interactive features like Animojis, Memojis, stickers, and enables up to 32 people in a single call. With FaceTime Audio, users can make calls over data or Wi-Fi. It's best for Apple users seeking an intuitive, fun, and user-friendly video chat app.
Main features
Preinstalled on Apple devices
Video calls with up to 32 people
Fun features like Animojis and Memojis
12. imo
Designed for versatility, imo supports high-quality video chats with friends and family both locally and globally. It stands out by supporting all network types, including 2G, making it accessible for users with low-end devices. It also features the nearby interest groups discovery function. Ideal for users in areas with limited network coverage, imo ensures that staying connected isn't dependent on your network quality.
Main features
Free high-quality video calls
Support for all networks, including 2G
Nearby interest groups discovery
13. Telegram
Prioritizing privacy and speed, Telegram syncs across devices, supports file sharing and social messaging without limits. Encrypted video calls, overlay in other apps, and a dedicated desktop app make Telegram a versatile and secure communication app. It's best for users who value privacy and seamless multi-device synchronization.
Main features
Secure messaging and video calls
Cloud storage for chat history
Customizable overlay and landscape/portrait mode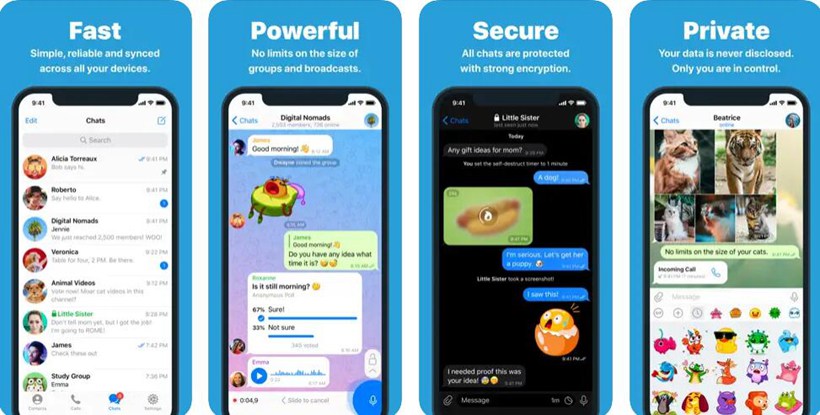 14. Signal Private Messenger
Offering built-in privacy settings, Signal enables secure and fast messaging, file sharing, and video calls. Customizable audio for each contact and reliable message delivery even on slower connections make Signal a unique and privacy-focused app. It's best suited for users who prioritize privacy and security in their communications.
Main features
Secure and fast messaging, file sharing, and video calls
Customizable audio for each contact
Reliable message delivery even on slow connections
15. Glide — Video Chat Messenger
For those who love to share life's moments, Glide offers video messaging combined with texting. Capture and share real-time moments at remarkable speeds, making long-distance communication more personal. It's best for users who enjoy sharing their day-to-day life through videos.
Main features
Real-time video messaging combined with texting
Integration with Android Wear for smartwatch use
16. ICQ Video Calls & Chat Rooms
ICQ offers an integrated video chat and text messaging experience without sacrificing quality. It offers various features like smart reply messaging, voice-to-text conversions, group messaging, and video calling. Users can even mask video calls, enhancing privacy. ICQ is best for users looking for a quality all-in-one communication platform.
Main features
Video calls and text messaging with high quality
Stickers, smart reply messaging, and voice-to-text conversions
17. Holla
Holla is an engaging Stranger Video Chat app, offering an excellent platform for meeting people globally. Its user-friendly interface and exciting features like video filters, avatars, and stickers make it a fun platform for social explorers who enjoy meeting new people.
Main features
Stranger video chat app for meeting people globally
Video filters, avatars, and stickers for added fun
18. CamSurf
CamSurf is a random video chat app that is free and user-friendly. It stands out with its ability to filter connections based on language or location. CamSurf is ideal for users looking to connect with people across different geographical locations.
Main features
Random video chat app with language and location filters
Lightweight platform and simple interface
19. Chatous
Chatous facilitates global connections and friendships based on common interests. It's a secure platform where users can end chats anytime and even share audio-video messages and photos. Ideal for users who appreciate diverse interactions, Chatous takes global communication to a personal level.
Main features
Connect with people globally based on shared interests
Secure chat with the ability to end conversations
Audio-video messages and YouTube video sharing
20. WeChat
WeChat provides video calling with a maximum capacity of nine participants, ideal for intimate family or friend chats. Its standout feature is notifying you of calls even with your screen off. WeChat is not merely a messaging app, it offers various innovative features such as WeChat Pay, convenience services, and mini programs. It's best for users seeking an integrated platform with diverse features beyond video calling.
Main features
Video calls for family and friends (up to 9 participants)
Call notifications even with the screen off
Integration with WeChat Pay and other practical features
How to Choose the Best Video Chat App for You?
Choosing the best video chat app for your needs comes down to a few key factors. Consider the features that are most important to you, such as group video calling, messaging capabilities, privacy and security measures, or integration with other platforms. Think about the devices you'll be using and whether cross-platform compatibility is crucial. Additionally, take into account the preferences and needs of the people you'll be connecting with.
Whether you prioritize simplicity, advanced functionalities, or a specific focus like gaming or business meetings, there's a video chat app out there for you. With the wide range of options available, you can find the perfect app that caters to your unique communication requirements. Happy video chatting!