In the digital era, real-time communication has been revolutionized by live chat apps, making it easier for people to interact with strangers, friends, or customers. These apps offer a wide variety of features, such as video calls, group chats, file sharing, and much more. In this article, we will explore 15 of the best live chat apps that you can use for various purposes.
Part 1: Live Chat with Strangers
1. Bigo Live
Bigo Live is a live-streaming app that lets you connect with people worldwide. It offers a platform to broadcast yourself and meet new people with similar interests. Some features include a 'Guest Live' option that allows the broadcaster to invite a viewer to co-host, real-time interaction with viewers via comments, and virtual gifts that can be converted to cash. This app is popular among users who enjoy the thrill of spontaneous interactions.


Key Features
Real-Time Interaction: Bigo Live's chat feature allows users to interact with broadcasters in real time. Viewers can share their thoughts, ask questions, or show support through comments during the live broadcast.
Guest Live: The 'Guest Live' feature enables the broadcaster to invite one of their viewers to co-host the live stream, fostering more interactive and engaging conversations.
Multi-Guest Room: This feature allows up to 12 users to video chat simultaneously in the same room, creating a more interactive and entertaining experience.
Voice Chat Room: Users can create or join voice chat rooms where they can have real-time audio conversations with multiple people.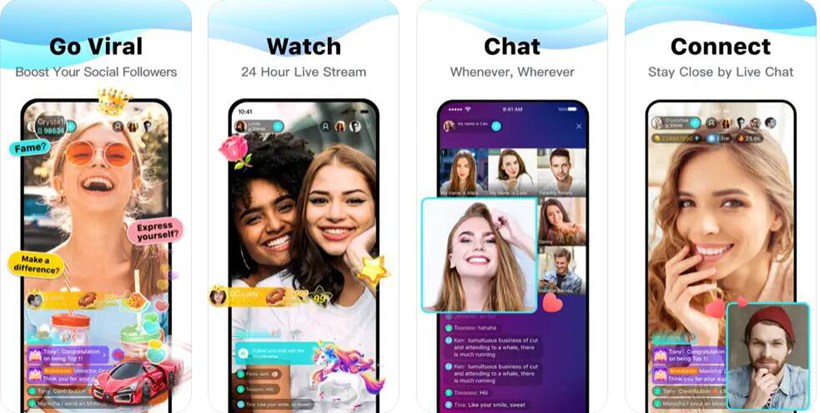 2. Tinder
Best known as a dating app, Tinder also facilitates live chatting with strangers based on geographic proximity. Users can 'swipe right' to express interest in another user, and if both users 'swipe right,' they can start a chat. Key features include the ability to share photos, gifs, and even location. With Tinder Plus and Gold, users can also connect with people worldwide, hide their age and distance, and enjoy an ad-free experience.
3. Grindr
Grindr is a mobile social networking and dating app specifically for gay, bi, trans, and queer people. This app allows users to chat, meet, and share pictures with people nearby or around the world. The 'Explore' feature allows you to find users in other cities or countries, while the 'Gaymoji' feature provides a collection of LGBTQ+ themed emojis to use in conversations.
4. imo
imo is a communication app providing free video calls and chat. This app enables users to connect with people worldwide, regardless of their device type. Its features include high-quality video and voice calls, group chats with up to 20,000 members, fast photo and video sharing, and hundreds of free stickers. imo also offers encrypted chats and calls, ensuring user privacy.
5. Omegle
Omegle is a platform that connects strangers for live chat. Users can have text, voice, or video conversations anonymously, using the 'Spy Mode' to ask questions to two other users or discuss a question with another stranger. While it doesn't have an official app, its website is mobile-friendly. This platform is popular among people who enjoy spontaneous and anonymous interactions.
Part 2: Live Chat with Friends
1. Telegram
Telegram is a messaging app focused on speed and security. It allows users to send messages, photos, videos, and files of any type (doc, zip, mp3, etc.), as well as create groups for up to 200,000 people or channels for broadcasting to unlimited audiences. It also has a 'Secret Chat' feature where messages are programmed to self-destruct, providing extra security.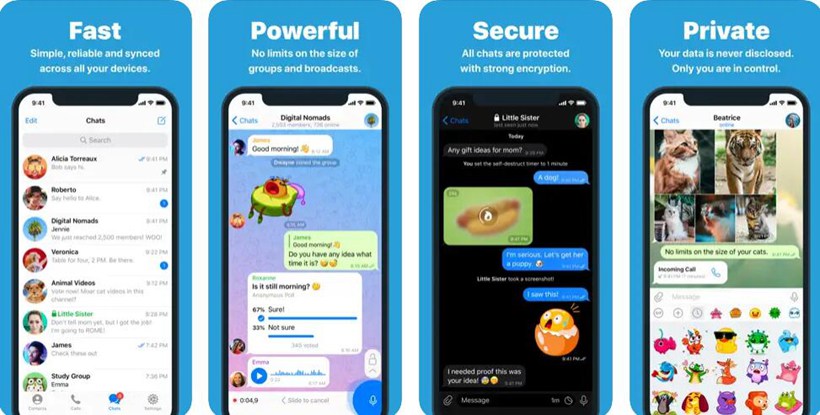 2. WhatsApp
WhatsApp is one of the most popular messaging apps globally. It allows users to send text messages, voice messages, photos, documents, and make voice or video calls over the internet. Features such as end-to-end encryption, group chats, and 'Status' make WhatsApp a versatile app for personal and business use.
3. Line
Line is a comprehensive communication app popular in Asia, offering messaging, voice and video calls, and a vast variety of stickers. Notably, Line includes social network features like a timeline and the ability to follow brands and artists. Also, it provides additional services like Line Pay, Line Taxi, and Line Music, extending its usability beyond just chatting.
4. WeChat
WeChat is a multi-purpose app used primarily in China. Besides text messaging, voice and video calls, it offers features like Moments (a personal feed for sharing photos and comments), mini-programs (sub-applications within WeChat), and even payment services. With its integrated ecosystem, WeChat is a one-stop platform for social networking and commerce.
5. Amino
Amino is a mobile app that allows users to explore, discover, and obsess over the things they're into. Each community has great content, the friendliest of people, and exciting events. Amino offers a variety of communication options, including text, voice, and video chats, as well as blogs, polls, and quizzes about thousands of topics.
Part 3: Live Chat with Customers
1. LiveAgent
LiveAgent is a helpdesk tool that provides real-time chat for customer service. It allows businesses to manage and track customer communications across different channels, including email, social media, and phone calls. Key features include a universal inbox, automated ticket distribution, time tracking, and detailed reports and analytics. It's a comprehensive solution for businesses looking to improve their customer service efficiency.
2. Zendesk Chat
Zendesk Chat, formerly Zopim, is a live chat software tool that can be integrated with Zendesk's helpdesk solution. It enables customer service teams to chat directly with customers on the website in real-time. Key features include proactive chat, offline forms, operating hours, chat analytics, and integration with Zendesk Support to track chat history and customer data.
3. Tawk.to
Tawk.to is a free messaging app that lets businesses monitor and chat with website visitors. It offers live chat and ticketing, real-time monitoring, and customizable widgets. This app allows businesses to interact with their customers in real time, enhancing customer satisfaction and boosting conversions.
4. Tidio
Tidio is a communication tool for businesses that keeps live chat, messenger, and email in one place. It offers features like chatbots for automated customer service, visitor data to track customer behavior, and integrations with other business tools. With a user-friendly interface, Tidio helps businesses respond faster to their customers and improve customer experience.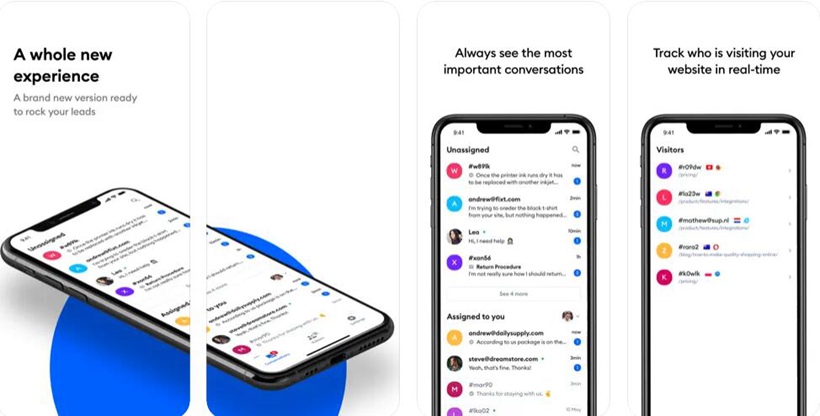 5. HubSpot Live Chat
HubSpot Live Chat is part of HubSpot's free CRM. It allows businesses to communicate with customers in real time, answer questions, and provide personalized support. The chat flows are customizable and can be automated with chatbots. All conversations are stored in the CRM, providing valuable context for future customer interactions. It's a robust tool for businesses focusing on inbound marketing.
Conclusion
In conclusion, the best live chat app depends on your needs, whether you're looking to connect with strangers, chat with friends, or engage with customers. These live chat apps are transforming the way we communicate, making our interactions more immediate, interactive, and personal. Whether you're a social butterfly, an entrepreneur, or a business owner, there's definitely an app for you.