In an increasingly digital world, live streaming has emerged as an unignorably trend, breaking boundaries and bringing the world closer than ever. Be it an epic esports tournament, a live concert, a fitness class, an engaging influencer session, or even a significant corporate event; there's a live streaming app tailored to every need.
With countless platforms on offer, how do you choose the FREE one? Fret not, we're here to make the task easier. We have delved deep into the realm of live streaming apps and have cherry-picked 12 of the best free live streaming apps available. Whether you're a gamer, a sports enthusiast, a professional, or an entertainment seeker, there's an app here for everyone.
Stream for Free: Discover the 12 Best Live Streaming Apps!
1. BIGO LIVE
BIGO LIVE is an entertainment-rich live streaming platform, perfect for those seeking diverse content to keep themselves engaged. With live shows from different countries, ranging from singing and dancing to storytelling and gaming, BIGO LIVE offers something for everyone. Users can even learn English on the app. Bigo Live brings together a wide range of broadcast-able content and ensures an enjoyable experience for all.


Main Features:
Wide variety of live shows
Learning opportunities such as English learning
Broad range of broadcast-able content
Best For: Entertainment seekers and time killers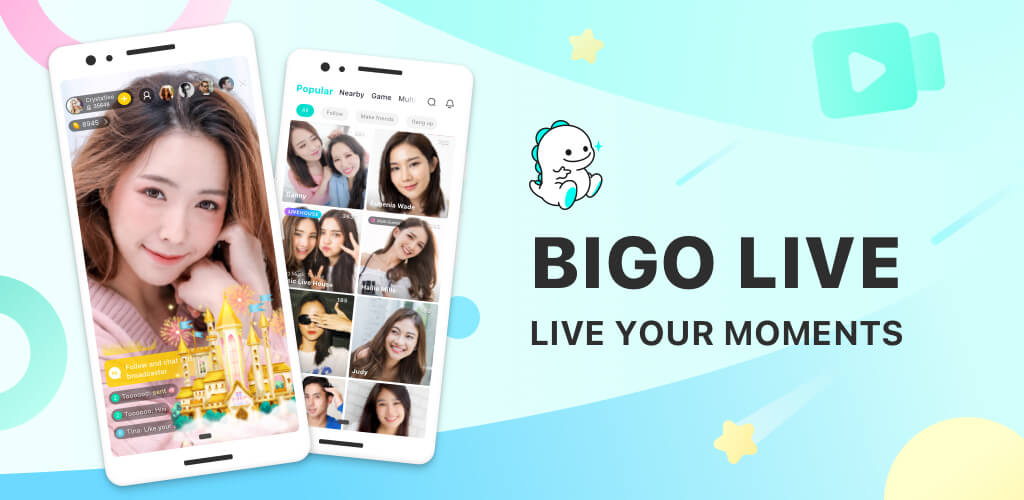 2. Twitch
Twitch is the go-to live streaming platform for gamers. It offers a wide array of games, from competitive ones like League of Legends and Overwatch to casual games like Pokémon and Minecraft. You can also find streamers with high competitive skills or enjoy broadcasts with a comedy trait. Besides gaming, Twitch provides live news and other shows.
Main Features:
Wide range of games
Broadcaster variety, from competitive gamers to comedic personalities
Live news and shows
Best For: Gamers, esports enthusiasts
3. WatchESPN
WatchESPN is a specialized live sports streaming app for sports fans. It covers a broad spectrum of sports events from football to basketball to baseball. The platform also allows users to discuss and share opinions on recent sports events in its news and highlights section. With the introduction of E-sports, WatchESPN continues to expand its offerings.
Main Features:
Live sports events coverage
News and highlights discussion section
E-sports live and information
Best For: Sports enthusiasts, esports followers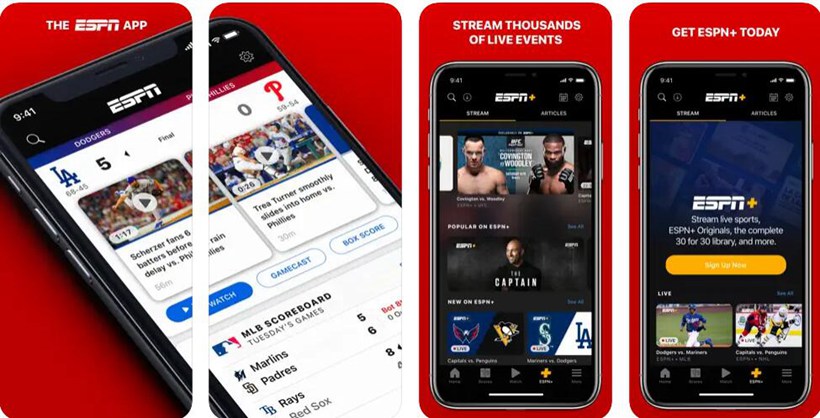 4. YouTube Live
YouTube Live offers live news and political discussions. Due to its vast audience, it's a preferred media for TV stations. Besides news, the platform also offers live streaming for games, sports, and music.
Main Features:
Live news and political discussions
Broad content from gaming to music
Large audience base
Best For: News and political enthusiasts, general entertainment seekers
5. Instagram Live
Instagram Live connects influencers with their followers in real-time. With in-app notifications and a range of fun filters, it encourages user interaction. After streaming, influencers can share a replay to their Story, ensuring fans never miss a moment.
Main Features:
In-app notifications
Range of filters for streaming
Option to share a replay of the live stream to Story
Best For: Influencers, followers seeking real-time interaction
6. Livestream
Livestream is a professional-grade live streaming platform known for its intuitive interface, high-quality videos, and comprehensive backend data analytics. Its interactive tools, like live polls and Q&A, make it the ideal choice for broadcasting professional events like conferences, concerts, or sports competitions.
Main Features:
High-quality (1080p) video
Backend data analytics
Audience interaction tools
Best For: Professional users, event organizers
7. Tango Live
Tango Live is a free live video app with social networking elements. With Tango, users can watch live videos of their favorite streamers or broadcast themselves to a multinational audience. Additionally, it's an excellent platform for private and group instant messaging.
Main Features:
Live video streaming
Social networking elements
Private and group instant messaging
Best For: Streamers, those seeking global interaction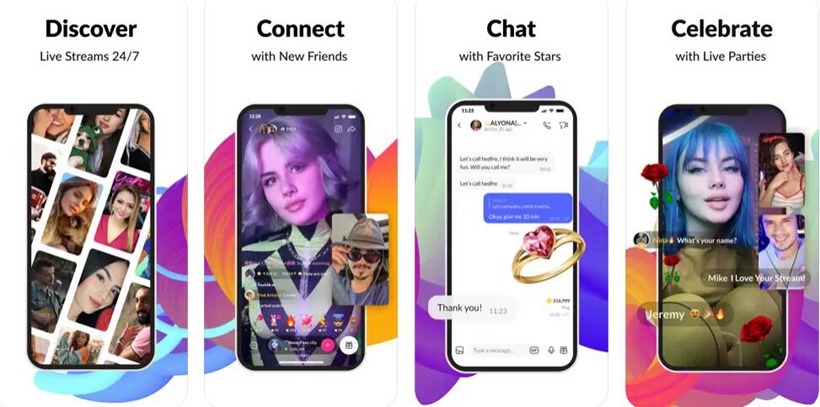 8. Facebook Live
Facebook Live allows users to stream directly from the platform, making it ideal for those with an existing audience on Facebook. Users can live stream on a personal profile, page, or in a group. Facebook also supports monetization options for content creators.
Main Features:
Direct live streaming from Facebook
Options to live stream on personal profile, page, or group
Monetization options
Best For: Content creators, existing Facebook users
9. TikTok
TikTok introduced live streaming for creators to connect with viewers in real-time. Its unique suggestion algorithm allows users to discover streams from new creators. To stream live, however, creators need at least 1,000 followers.
Main Features:
Live streaming for creators
Unique suggestion algorithm
Follower requirement for live streaming
Best For: Short-form content creators, TikTok users
10. LinkedIn Live
LinkedIn Live offers a unique professional-focused live streaming experience. Primarily a networking platform, LinkedIn offers live streaming to premium users, allowing them to engage with industry thought leaders and other professionals.
Main Features:
Professional networking
Live streaming for premium users
Access to industry thought leaders
Best For: Professionals, industry thought leaders
11. Vimeo
Vimeo supports video hosting and sharing with features such as video player embed and basic video creation tools. Higher subscription tiers unlock live streaming, virtual event, and webinar tools. Filmmakers and large companies often use Vimeo.
Main Features:
Video hosting and sharing
Live streaming, virtual events, and webinar tools
Advanced features for higher subscription tiers
Best For: Filmmakers, large companies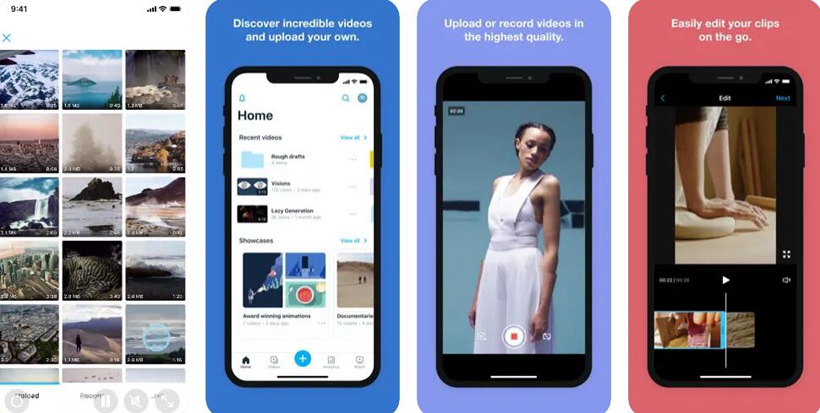 12. InEvent
InEvent is a live streaming app catering to event organizers. It assists in streaming virtual and hybrid events like live meetings, television broadcasts, webinars, and more. InEvent is widely used in various sectors including finance, healthcare, automotive, government, and education.
Main Features:
Live streaming for virtual and hybrid events
Broad industry usage
Supports various event formats
Best For: Event organizers, educational institutions, businesses
Embracing the Future of Free Live Streaming
Live streaming is no longer a luxury, it's the new norm. The beauty of these platforms is their diversity. From BIGO LIVE, the haven for entertainment, to LinkedIn Live, the hotspot for professionals, or Instagram Live, the hub for influencers, these live streaming apps are revolutionizing the way we connect, interact, and consume content. Each of these 12 free live streaming apps offers unique features that cater to different audience needs, providing them with real-time, interactive, and immersive experiences.
Remember, the world is live, and it's time you are too!