Twitch has been a colossal force in the live game streaming world, drawing over 15 million daily viewers. However, Twitch's recent decision to reduce creator earnings has sparked a search for alternatives to Twitch among streamers and viewers alike.
If you're looking for sites like Twitch or apps like Twitch, you're in luck. This article introduces you to 12 video game streaming platforms that stand as formidable Twitch competitors.
12 Best Twitch Alternatives & Competitors
1. YouTube Gaming: A Premier Gaming Streaming Platform
YouTube Gaming, once a standalone app and now integrated into YouTube, is one of the best gaming streaming platforms and a significant Twitch alternative.
With its massive audience base, YouTube allows gamers to easily find and enjoy live streams of their preferred games. It features game-related videos on demand and updates on the gaming industry, making it a comprehensive hub for all things gaming. Notably, it offers features such as donations and subscriptions to support individual channels.
Main Features:
Live game streaming
Donations and subscriptions for channel support
Comments and interaction with streamers
Game industry news updates
Best For: Gamers who prefer a familiar platform with a large user base. Also suitable for those who want to support their favorite streamers monetarily.
2. Bigo Live: More Than Just a Gaming Platform
Bigo Live, while not exclusively a gaming platform, offers a variety of live streams, including gaming. It's a new streaming platform like Twitch that caters to a broader range of interests. You can find numerous broadcasters showcasing their unique skills on this platform. By exploring the app, you can find and follow streamers that match your interests.


Main Features:
Variety of live streams beyond gaming
Ability to follow preferred streamers
Exploration of diverse content
Best For: Users looking for diverse content beyond gaming. Ideal for those who enjoy exploring different talents and entertaining broadcasts.
3. Dlive: Blockchain-Based Gaming Streaming
DLive stands out among gaming streaming platforms with its blockchain technology and a close-knit community, offering a unique experience for streamers and viewers. With less stringent content guidelines and its own currency system, it attracts streamers who can connect more frequently with their audience and enjoy better revenue returns.
Main Features:
Game live streaming
Blockchain-based currency system
Tight-knit community engagement
Less stringent content guidelines
Best For: New streamers looking for a welcoming community and a platform that allows them to retain more of their earnings.
4. Caffeine: A Social Networking Twist on Game Streaming
Caffeine is a novel streaming platform that combines social networking with live streaming, making it an appealing Twitch competitor for those seeking a more interactive experience.
Users can browse a feed similar to Twitter or Facebook to find streams of interest. The platform enables user connectivity, making every user a potential streamer.
Main Features:
Social network-like user experience
Interactive and unique chat system
Every user can stream
Best For: Streamers who prefer a more social networking-like experience and interactive communication during live streams.
5. Trovo: Familiar and User-Friendly
Trovo, a video game streaming platform, is favored by smaller streamers for its similarity to Twitch in interface and functionality, making it one of the emerging Twitch alternatives.
It allows streaming of video games in an easy and monetized manner, offering viewers a good selection of streamers and games.
Main Features:
Video game live streaming
Familiar, user-friendly interface
Monetization for streamers
Best For: Small streamers who want an easy-to-use, monetized platform for video game streaming. It's also great for viewers seeking new and varied content.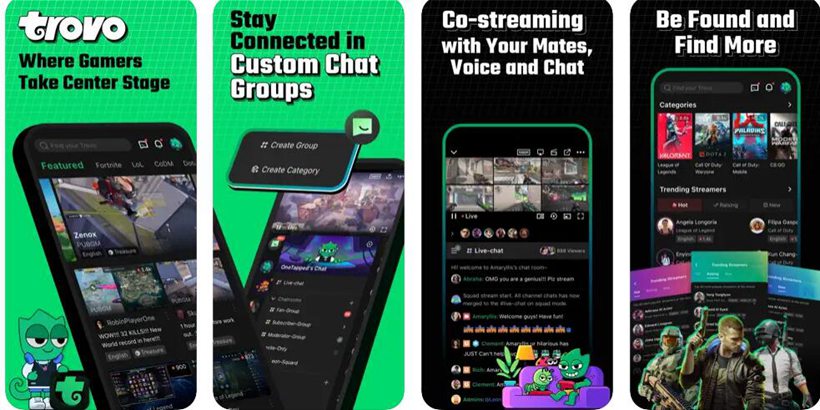 6. Mirrativ: Mobile Streaming Focus
Mirrativ is a mobile-only live streaming app that lets users broadcast any content on their screens. It's not limited to games; you can vlog, make friends, and even watch music videos. Viewers can interact with streamers in real-time via chat boxes, liking streams, and more.
Main Features:
Mobile-only live streaming
Screen sharing
Interactive chat boxes for viewers
Best For: Mobile gamers and casual users who want to broadcast a variety of content directly from their smartphones.
7. Facebook Gaming: Leveraging Social Media for Streaming
As an offshoot of the social media giant, Facebook Gaming serves as an alternative to Twitch, especially for new streamers looking to tap into an existing user base.
It allows content creators to upload videos, stream live gameplay, and monetize their content through sponsors, donations, and subscriptions.
Main Features:
Live gameplay streaming
Video uploads using GameOn software
Monetization through sponsors, donations, and subscriptions
Best For: New streamers who want to tap into the existing Facebook user base, and those who prefer an easy-to-use interface for streaming and monetization.
8. Ustream: Diverse Content Streaming
Ustream, one of the earliest competitors of Twitch, offers live streaming, video recording, and uploading. It features a built-in chat system and broad content that ranges from eSport events to cooking shows. With its integration in Playstation 4 and Xbox One, streaming is a breeze.
Main Features:
Live streaming, video recording, and uploading
Built-in chat system
Diverse content beyond gaming
Integration with Playstation 4 and Xbox One
Best For: Streamers who want an all-in-one platform with diverse content, and gamers who use PlayStation 4 and Xbox One.
9. Nimo TV: Global Gaming Community
Nimo TV is a live streaming platform that offers a diverse range of content including gaming, music, cooking, and sports. It facilitates an immersive and interactive streaming experience, connecting gamers globally and encouraging content sharing.
Main Features:
Diverse content beyond gaming
Immersive and interactive streaming
Global connectivity among gamers
Best For: Gamers who want to connect globally and users who appreciate a range of content beyond gaming.
10. Vimeo: A Platform for Serious Streamers
Vimeo is a versatile video sharing platform that hosts many gaming-focused channels. While not exclusively for gaming, it's an excellent place for streamers who want to sell their content or launch a subscription service. It offers a free account with an upgrade option for advanced needs.
Main Features:
Video sharing and streaming
Monetization options (selling content, launching subscriptions)
Free account with an upgrade option
Best For: Streamers who are serious about monetizing their streams and videos, and those seeking a platform to build a robust subscription base.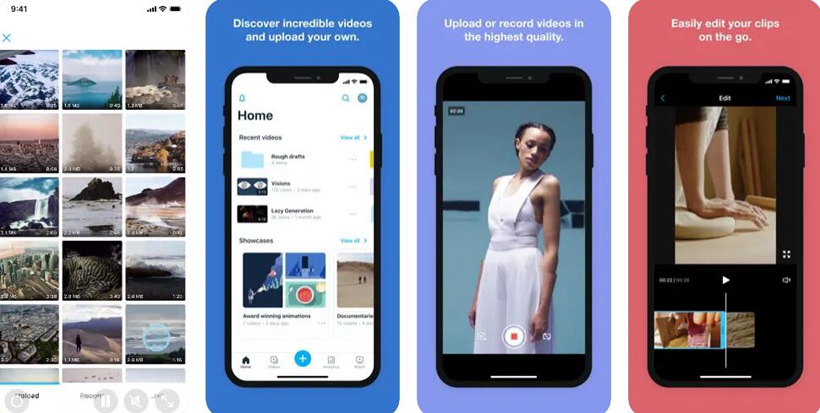 11. StreamYard: Streaming Studio in Your Browser
StreamYard is a live streaming studio in your browser. It allows users to interview guests, share their screen, and simultaneously broadcast to multiple platforms. Although it's not exclusive to gaming, it's versatile and widely used for various live streaming needs.
Main Features:
Multistreaming: Stream simultaneously to multiple platforms, including YouTube, Facebook, Twitch, LinkedIn, and more.
Graphics & Branding: Customize the appearance of your live stream with overlays, banners, and logos.
Screen Sharing: Showcase your screen or a particular application window.
Guests: Invite guests into your streams with a simple link. You can have on-screen chats and interviews with up to 10 participants.
Stream Recording: Recordings are available for download after the broadcast.
Live Comments: See and showcase comments from all destinations within StreamYard.
Best For: StreamYard is perfect for content creators, podcasters, interviewers, and those hosting panel discussions or webinars. Its ease of use and branding features make it a favorite for businesses and individuals alike who are looking to maintain a professional appearance in their streams.
12. Mobcrush: For Mobile Game Streamers
Mobcrush is a mobile game live streaming platform and community. It's also a multi-platform streaming solution that allows you to simultaneously broadcast to several platforms.
Main Features:
Multi-platform Streaming: Stream your content simultaneously to Twitch, YouTube, Facebook, and more.
Integrated Chat: A unified chat experience that aggregates messages from all platforms, making it easier for the streamer to engage with viewers.
Streaming Analytics: Track your growth, viewer numbers, and engagement across all platforms.
Mobile Streaming Tools: Since Mobcrush started with a focus on mobile gaming, it offers robust tools for mobile streamers.
Best For: Mobcrush is excellent for mobile game streamers and any streamer looking to broadcast on multiple platforms at once. Its platform-agnostic nature allows for a broad reach, making it a favorite for creators wanting to expand their audience across different channels.
Conclusion: Finding Your Ideal Gaming Streaming Home
As we wrap up, it's clear that while Twitch continues to be a dominant force in the world of game streaming, it's not the only option available. With the variety of streaming platforms like Twitch that we've explored in this post, you have an assortment of alternatives that can cater to your unique needs as a streamer or viewer.
Whether it's YouTube Gaming's integration with the main YouTube app, Bigo Live's diverse live streams, or Mirrativ's mobile-centric approach, there is a platform out there for everyone.
Remember, the best platform is the one that aligns with your gaming preferences, community engagement, and potential for growth and monetization. Happy gaming and streaming!
| | | | | | |
| --- | --- | --- | --- | --- | --- |
| Feature/Platform | Twitch | Bigo Live | YouTube Gaming | DLive | Facebook Gaming |
| Primary Focus | Gaming, eSports, IRL | Mobile Streaming, Lifestyle | Gaming, eSports | Gaming, Blockchain | Gaming, Community |
| Monetization | Bits, Subscriptions, Ads | Gifts, Beans, Ads | Super Chat, Memberships, Ads | LINO Points (Crypto-based) | Stars, Fan Subscriptions |
| Multi-streaming | No | No | No | No | Yes (via 3rd party) |
| Audience | Global, mostly Western | Global, strong in Asia | Global | Global, more lenient content policy | Global |
| Chat Features | Emotes, Sub-only chat | Stickers, Public chat | Emotes, Member-only chat | Stickers, Public chat | Stickers, Public chat |
| Interactivity | High (Polls, Raids) | Medium (Guest Live, PK Challenges) | High (Polls, Premieres) | Medium (Donations) | Medium (Polls, Groups) |
| Content Policy | Strict | Moderate | Strict | More Lenient | Moderate |
| Mobile Streaming | Yes | Primarily | Yes | Yes | Yes |
| Video Quality | Up to 1080p/60fps | Up to 1080p | Up to 4K | Up to 1080p | Up to 1080p |
| Community Tools | Moderation tools, Channel Points | Moderation tools, Leaderboards | Moderation tools, Community posts | Moderation tools, Voting | Moderation tools, Groups |