In the ever-evolving world of digital communication, live streaming has carved its unique niche, becoming a potent tool for interaction, engagement, and connectivity. Whether it's about broadcasting an event, engaging with your audience in real time, or just sharing your daily routine with the world, having the best live streaming app at your disposal is essential. And that's where our blog post steps in.
With countless apps available on the Google Play Store and Apple App Store, it can be overwhelming to choose the one that best suits your needs. In this article, we'll guide you through the 20 best live streaming apps for Android and iPhone in 2023, each handpicked based on their features, reliability, and user reviews. Let's dive in and help you find the perfect tool for your live streaming adventures.
Streaming On-the-Go: Best Live Apps for Android & iPhone
1. BIGO LIVE
Bigo Live has all features of a typical live streaming app. It allows you to share moments with the world by streaming; watch streams from other people from various countries, and even make friends while chatting.
As for the distinctive features of the app, it can be used as a Video Chat app. You will be able to start a one-on-one conversation with your friend or even a nearby stranger! In addition, you can add other users to the video chat, up to 12 people.
In addition, the application has many useful features, such as PK, 3D Avatar, and beauty filter.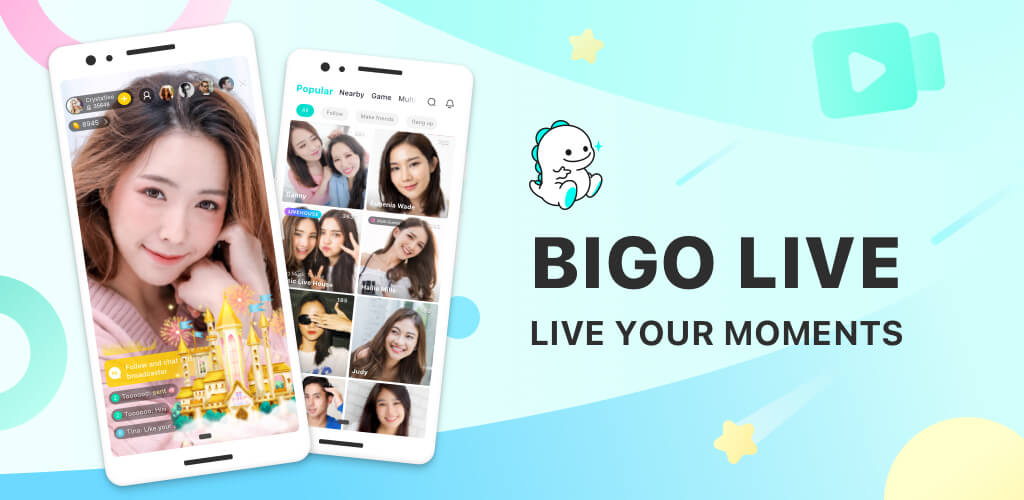 2. Instagram Live Stories
Instagram is one of the most popular photo sharing apps and just like other social media apps, it also allows you to create live streams.
To go live, open the Instagram app and tap the "Add Story" button or swipe right to open the story page and select "Start Live Video". When you start a live broadcast, Instagram will notify your followers by sending a notification. After the live stream ends, you can click "End stream" and then it will tell you the total number of viewers watching you live. It also gives you options to save the live stream and share it as an Instagram story for the next 24 hours for those who weren't able to watch it in real time.
3. Facebook Live
Unlike Instagram, Facebook Live is available both on the web and on the app. The design of Facebook is similar to Instagram, but Facebook Live has much more audience than Instagram.
To start a Facebook Live stream, click the camera icon at the top right of the app and swipe right to access the Live option. You can add a description to your live and set the visibility just like any normal post. And just like on Instagram Live, you can also add a friend, add fuzzy masks, etc. Once done, click the "Start Live Video" button.
4. YouTube Live
Like Facebook, YouTube live streaming is available for both the web and smartphones. But unlike Facebook, you need to verify your phone number and make sure your channel is in "good standing" before you're eligible to post to YouTube.
To stream live on YouTube, open the app and tap the rising icon in the top left corner and select "Live". If you're doing this for the first time, you'll be prompted to verify your account phone number. After completing the verification process, you can start your live stream. You can change the camera to show or hide your face on the live stream, mute the microphone, or disable comments. You can also share the broadcast link on Facebook to attract more viewers.
5. Twitch
The next live streaming app you can try is Twitch. It is, so far, the best and most used Live streaming application for gamers all over the world. It also covers and offers other streaming videos like live talk shows, travel, song coverage, food and many more. Start by creating your account for free.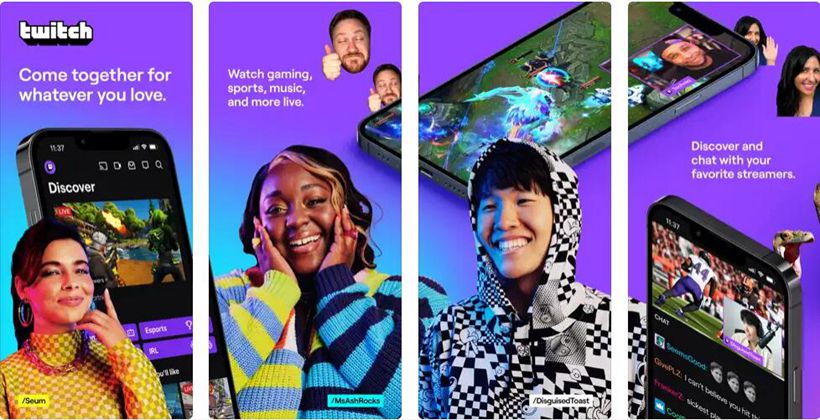 6. Omlet Arcade
Omlet Arcade is one of the best platforms to start streaming mobile games. Choose to record or broadcast your best moments, watch amazing matches, and meet gamers around the world. You can find a wide variety of games, including Minecraft, Free Fire, Brawl Stars, PUBG Mobile, Fortnite, Roblox, and many more. On the other hand, it allows you to broadcast the games to Facebook, YouTube or Twitch.
7. Mobcrush
Mobcrush is another app that you can use to stream mobile games. It is a free tool with which you can broadcast your games live. With Mobcrush, you can stream live games to some of the major platforms: Facebook, YouTube, Twitch, and Twitter. There is also the option to broadcast directly to the Mobcrush community.
8. TikTok Live
Using TikTok as a live streaming video app is an efficient idea to showcase yourself and your brand to the world. With a very diverse market involved, you can interact with a community of talented content creators and build your brand awareness over time.
However, unlike other live streaming apps in the list, you have to meet some requirement before you can go live on TikTok.
You must be over 16 years old.
Generally, a minimum of 1,000 followers is required to go live on TikTok.
You can receive gifts from the age of 18, which can be converted into real money.
9. 365Scores
365Scores is a sports live streaming app. With it, you can watch different sport live videos which include the NFL, NBA, Champions League, La Liga, Premier League, MLS, Liga MX, Serie A, MLB, Tennis, and more than 2,000 Soccer, Rugby and other leagues sports.
10. ESPN LIVE
If you're a sports fan, you've probably heard of ESPN and it is a hugely popular sports app. ESPN is known for being a "sports hub" due to its incredible variety of sports. From soccer, cricket to tennis, ESPN broadcasts it all. By the way, ESPN has one of the best live sports streaming services, providing the latest updates on every game.
The ESPN app gives you a great sports streaming experience on the go. The highlight of this app is that it allows you to customize a list of your favorite teams and sports and receive notifications based on game times.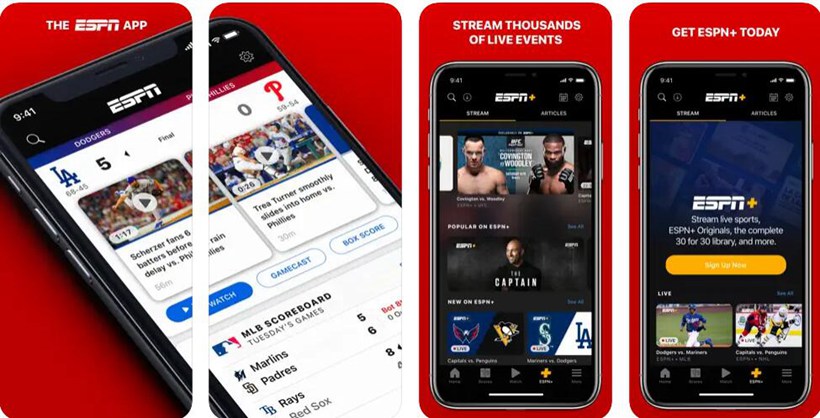 11. CBS Sports
CBS Sports app is one of the best live sports streaming apps available in the US. The app allows you to follow up to 8 games at once and on one screen! You can also customize the layout and settings to suit your preferences and receive notifications for news, scores, stats and more from your favorite teams.
If you're looking for a free 24-hour news network and high-quality live streaming of many different sporting events, the CBS Sports app is a great choice!
12. Zoom Cloud Meetings
If you are looking for live streaming apps for work, you can use Zoom Cloud Meetings. This app allows you to take calls, join Zoom webinars, stream live video, and much more using your mobile phone. With high-definition video and audio capabilities, you can display your live streaming activity with ease.
13. Livestream
Another best live streaming apps is Livestream, which is possibly the largest platform of its kind. It works as a social network for live broadcasts, which allows you to make live stream for more specific audiences with ease.
With this app, all your followers and friends will receive notifications of your updates and new lives in real time. You can easily stream from your smartphone to major social networks like Facebook and Twitter.
14. YouNow
YouNow is one of the best apps to make lives. With this app, you can sign up using one of your existing accounts on major social networks. Then, you can stream as much content as you want and use tags to grab the user's attention, as well as save streamers to your favorites bar. The app is mainly focused on teenage users.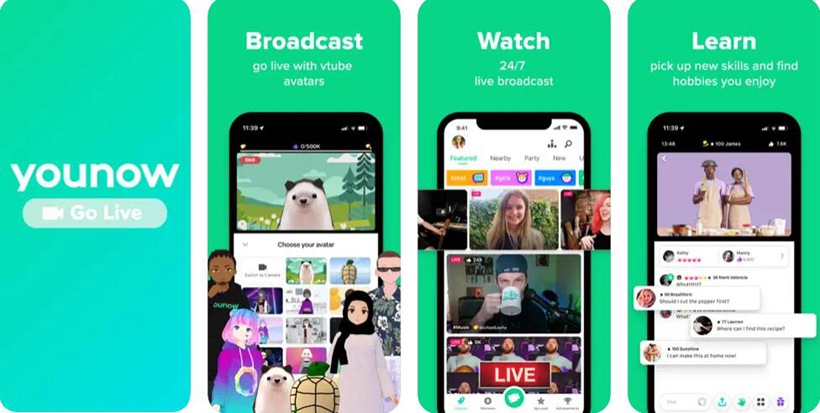 15. UStream
UStream will give you access to hundreds of live streaming events from different categories. Based on your interests, you can explore the live streaming section to find the right live streaming content. In addition to this, you can also start your stream with one tap using UStream.
16. Streamago
Streamago allows you to stream live videos to your Facebook friends publicly or privately. While watching a live stream, it allows you to bookmark them, add a comment, and send the broadcasters virtual gifts. The leaderboard helps you discover the most popular and trending streams. You can share the live streaming link on Facebook, Twitter and WhatsApp, etc.
17. GoLive
GoLive is another great live streaming app for Android and iPhone users. It is perfect for people who want to stream their live streams and connect with random people from different corners of the world. With the dedicated video call feature, you can talk to people on a video call and make friends all over the world.
18. GoStream
GoStream is a simple live streaming app that will help you live stream your videos on the two most popular video platforms i.e. Facebook and YouTube. It offers an easy process to start a live stream with minimal effort.
19. Vimeo
Vimeo has rightfully earned its place among the top live streaming apps, standing toe-to-toe with platforms like YouTube. Renowned for delivering premium quality high-definition videos, Vimeo stands out with its support for 4K and ultra HD streaming, even while offline.
Unlike many other platforms, Vimeo allows users to follow their beloved content creators, enabling a more personalized streaming experience. The app offers a diverse range of content from gaming to series, films, and more.
What's more, it allows users to share their favorite streams across different social media platforms seamlessly. However, for newcomers or those less tech-savvy, navigating Vimeo's interface may pose a slight challenge.
20. Streamlabs
Venture into the vast universe of content creation with Streamlabs, a leader in the community of online broadcasters. This application, free of charge, provides an unrivaled video live streaming experience that lets you play various mobile games and broadcast your screen to numerous social media networks like YouTube, Facebook, and Twitch.
Unique to Streamlabs is the feature that allows for seamless switching between front and rear cameras, catering to your streaming needs. The platform also offers an extensive selection of mobile themes, letting you customize your stream to your taste. With Streamlabs' real-time chat feature, engage and interact with individuals globally. Consider giving Streamlabs a try, whether you're into sports or any other genre, it's among the best live TV streaming apps available.
What Are the Best Live Streaming Apps?
In this digital era, live streaming continues to reshape how we share and consume content in real-time. The choice of the right app can significantly enhance your live streaming experience, whether you're a casual user wanting to share moments with friends or a professional broadcaster reaching out to a global audience.
We have explored the 20 best live streaming apps for Android and iPhone, each with unique features to cater to diverse user needs. It's time to take your live streaming experiences to the next level, and these apps are just the tools to help you get there.