BIGO LIVE rolled out the "PK" feature in 2017. However, many people are confused about the meaning of the word "PK" which is new to most of people.
In this guide, we will explain what's the "PK" in BIGO LIVE, how "PK" works, the benefits of PK, and how to start a "PK" on BIGO LIVE.
What Does PK Mean in BIGO LIVE?
PK (referred to as Battles), which is originated from Asian livestreaming apps such as MOMO and YY, is real-time competition between streamers.
The feature brings together two or more live streamers and their audiences for a live showdown. The competitors can challenge each other in a variety of categories ranging from music, to dance, to comedy and more. Each battle lasts only a few minutes. Whichever streamer earns the most diamonds by receiving gifts from viewers during the battle is declared the winner.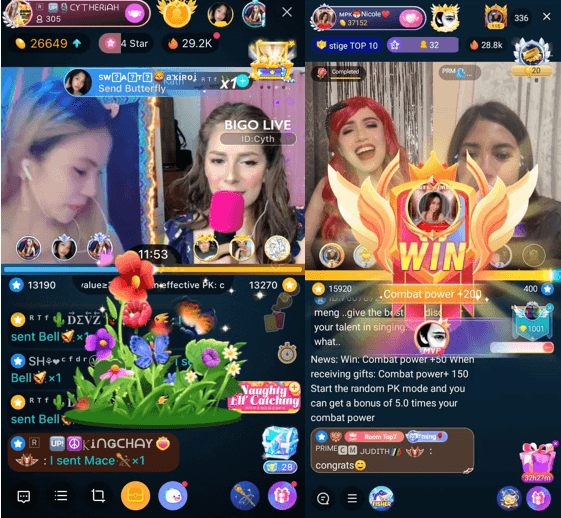 How PK Works on BIGO LIVE?
On BIGO LIVE, streamers have many options to batter with others. You can select to batter either with a friend (someone you mutually follow) or a random stranger. Also, you can organize a team and batter with another team.
Once both streamers have opted into the battle, the audience of both streamers are merged into one live room so that the audiences can see both streamers at the same time — the two streams are placed side by side.
What do streamers actually do during a battle? Some have serious singing competitions or dance-offs while others see who can do the best impressions or who can do the most push-ups. Streamers may also agree on a silly punishment for the loser, such as hopping on one leg or drawing on their face.
The viewers can cast their votes for the streamer they support by sending them in-app gifts. The streamer who collects more gifts win the battle.
The Benefits of PK (Battles)
PK breathe new life into established streaming platforms in a number of ways.
Firstly, the competitive dynamic will strengthen the relationships between streamers and their fans.
Secondly, PK has the potential to incent viewers to give more gifts to streamers, which is primarily how a streamer earn money.
Lastly, PK is a tool for streamers to create fresh, new content for their audience. Live streamers typically stream for hours a day, which means they are constantly having to come up with new ways to entertain their audiences. With battles they can break up their streams with mini-bursts of excitement.
How to Start A PK on BIGO LIVE?
It is easy to start a PK on BIGO LIVE. Check the instructions below to start your first PK.
Time Needed : 1 minutes
Go Live

Open BIGO LIVE app and start to "GO LIVE".

Tap PK Button

During your live stream, tap on the PK button in the bottom right corner.

Select PK Mode

Now, you can select the PK mode. If you want to start 1V1 PK, you can select "Line" or "Match". If you want to start a team PK, just tap on "Team PK".
How to Start a Team Battle PK?
Step 1. You are the captain of your side. Then, you need to invite friends as the captain of the opponent.
Step 2. Click on the empty "seat" to invite teammates to join. If you are not the captain, please wait for the invitation from the captain.
Step 3. When the teammates are on the seat, the captains of both sides can click "Start" to start PK.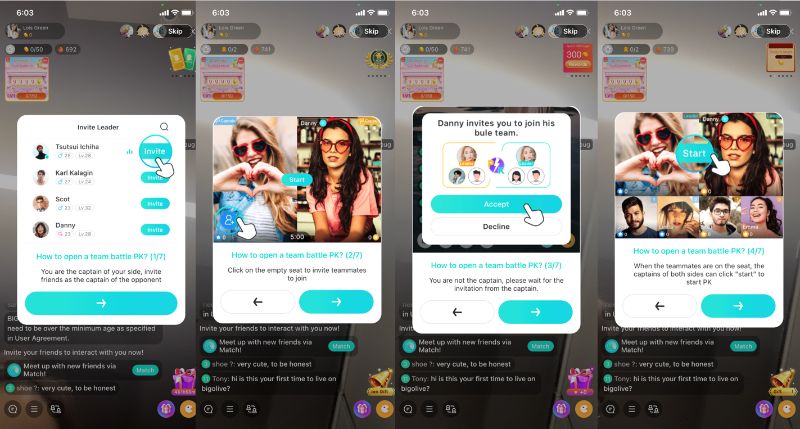 How to Start Fans PK?
If you are not a streamer, you can also start a PK which is called "Fans PK". You can start a PK with other fans online to guard the host by sending gifts. The winner of the PK will get the host rewards.
Step 1. Enter the live room of a streamer you want to support.
Step 2. Tap on the "Treasure chest" button at the bottom.
Step 3. Choose "FansPk".
Step 4. Invite a fans online to start the PK.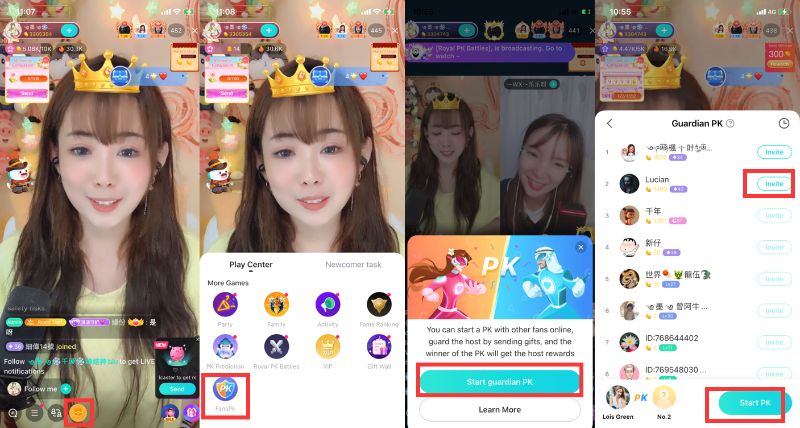 That's it! Do you like the "PK" feature? If you want to start your first PK, you can share this post to your friends and invite them to have a try.