Author : BIGO LIVE India – Tanmeet Ahuja
The Q3 2019 performance of BIGO Technology is released recently. BIGO Technology being an Internet and technology company, where the major products include BIGO LIVE, Likee (Formerly LIKE video), and imo is ready to take the world by storm!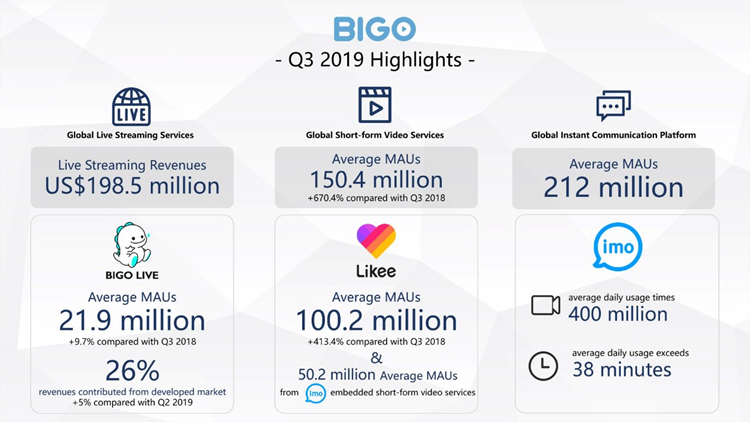 During this quarter, Likee, our notable global short-form video platform, has hit the milestone of reaching over 100 million average mobile MAUs. Bigo Live, the live broadcasting application has garnered 21.9 Million average MAU, and has witnessed almost 10% rise as compared to Q3 2018. Our global instant communication platform, imo has also witnessed a rise in Average MAU's to 212 million.
Bigo Live is a global live video streaming social platform where users through live streaming show their life moments, showcase their talents, interact and send virtual gifts in real-time, and enjoy fun live sessions with people worldwide. Bigo Live which ran its own education channel in India to impart online learning and English courses which especially were useful for Tier2/3 cities of India, gained eyeballs of many. The app is available in more than 150 countries and regions. What's unique about Bigo Live is that the platform is setting up a new trend of free education through professional user-generated content creators and educational influencers, such as Awal Madaan, a Popular, English coach, education Influencer, Motivational Speaker has joined Bigo Live & giving live lessons to educate & encourage the viewers.
Likee, formerly LIKE Video, is a global short video creation platform with diverse content where youngsters are creating amazing and inspiring videos. The platform is popularly known for introducing fun-filled social campaigns, attracting millions of Indian users. Likee's #IAMINDIAN campaign to celebrate India's 73rd Independence Day became a huge success, and it also won Guinness World Record. Other noteworthy campaigns are #Likeedreams to support the talented youth from the underprivileged background and other campaigns. Most importantly, Likee has a very robust system when it comes to content exposure for adolescents.