Bigo Live is legit. It is a favored live streaming platform that lets you show off your talents and share live moments with others. It's becoming one of the fast-growing live stream apps. 
Background
Bigo Live is owned by a Singapore-based company called BIGO Technology, which was founded in 2014. Bigo's headquarters and regional centers are focused on building Artificial Intelligence capabilities and enhancements, especially for localization and country specific requirements. At present, Bigo has over 20 offices around the globe.
Launched in 2016, Bigo Live has successfully established its global footprint and now has a large user base in more than 150 countries and regions, it currently occupies a dominant position in Southeast Asia, South Asia, the Middle East, the Americas and other markets.

Download
Bigo Live is legit and legal, and users can download it for free from both the Apple Store and Android Google Play. Besides, watching the live streaming on your own computer and going to our official website is also a smart idea, then you can choose to download the Bigo Live app from there.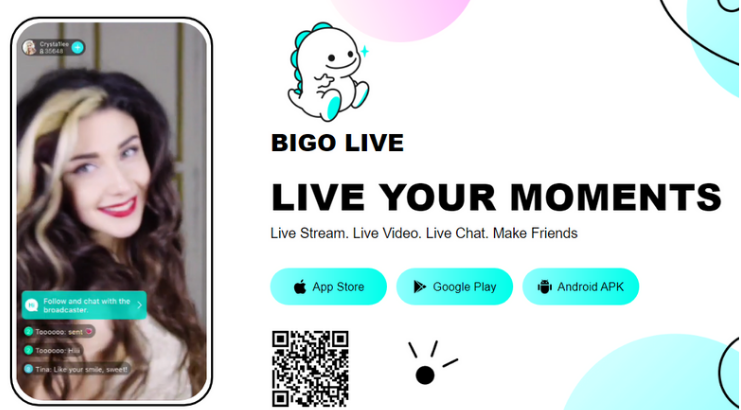 Development
Bigo Live has been developing at a rapid and excellent rate since 2016. When it first came out in Thailand, it topped the list of social apps. At the end of 2018, it has reached 26.7 million monthly active users in the whole world. Then, in less than one year, Bigo Live got over 350 million users globally. In March 2020, it was ranked 6th in the US and 5th worldwide for streaming apps.
Terms of Use
Age Limit
It is required to be at least 18 years old (or the age of majority in their jurisdiction). For teenagers under the age of 18, it is not recommended for you to use Bigo Live.
Some Community Guidelines
Smoking, gambling, liquor, pornography, obscene, and violent live contents are not permitted.
No commercial promotion for any products.
It is forbidden to publish contents that are against local laws and politics as well as cultural, religious, geographical, and personal attacks during the live stream.
Be noticed to the copyright contents.
If Bigo Live finds a violation or receives a user report, it will, depending on the circumstances, ban the offending account.
Bigo Live is a compliance operational live streaming platform, powered by Bigo Technology. Bigo Live aims to provide users with a world class experience through its cutting-edge technology. Building a global and empowering video-based virtual platform. BIGO encourages people to share their imagination, enthusiasm, energy and happiness in daily life and to make the world a better place.