Why My BIGO LIVE Account is Banned?
Your account will be banned if you violate the Community Convention of BIGO Live. Please read the detailed Community Convention before you go live >>> "Me" -> "Settings" -> "About Us" -> "Community Convention".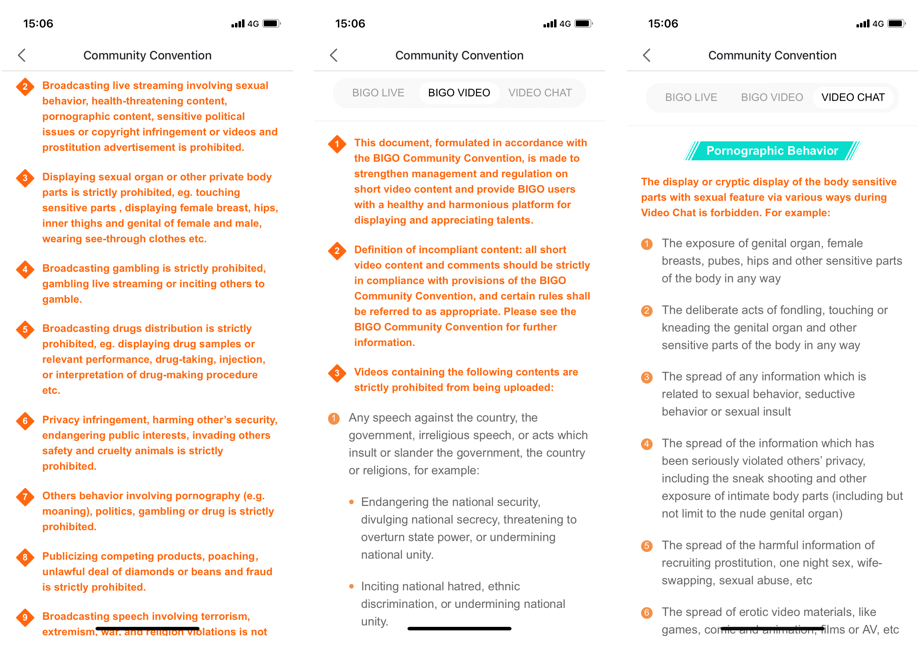 If you see violations, please report to us so that our censor can investigate the issue at once.
How to report:
You can do this by tapping on the user's name or avatar or messages, navigating to the "Report" icon on the upper left corner of user's mini-profile.
I Have Been Banned, What Should I Do?
If you are banned for over 72 hours, please log out and re-login, then you'll enter the Self-Unbanning Service page. Fill in the information in accordance with the instructions and submit the unbanning application, we'll handle your appeal within 3 working days.
Community Convention of BIGO LIVE
In order to enhance the community management of BIGO LIVE and provide the users a healthy and harmonious platform for both talents show and appreciation, Bigo Live reserves the right to control violations in content and behavior.
Bigo Live users shall comply with the relevant local laws and regulations as well as Community Convention of BIGO LIVE, otherwise, he or she would be punished for the violations, which would be graded by the Bigo Live according to a comprehensive evaluation of the violation intention, time and other objective factors.
This convention is applicable to all the community content, including but not limited to broadcasting, videos, pictures, user behavior, etc.
The users could make an appeal against the punishment.
Bigo Live reserves the right of final explanation of all the punishment.
Notice:
In addition to the User Agreement, please read the regulations listed below. This convention would be amended from time to time according to the development of BIGO LIVE community and platform.
Serious Violations (Class A)
1. Publication of anti-state and anti-government remarks or behavior insulting the government and state is strictly prohibited. Endangering state security, divulging state secrets, subverting state power and undermining national unity.
Endangering state security, divulging state secrets, subverting state power and undermining national unity.
Harming national honor and interests.
Inciting ethnic hatred or ethnic discrimination, or undermining national unity.
Undermining national religion policy, damaging social order and peace and personal morality.
Spreading violence, terror or abetting the commission of crimes.
Organizing unlawful assembly, mobbing or disturbing social order.
Inciting religious and racial discrimination.
2. Broadcasting live streaming involving sexual behavior, health-threatening content, pornographic content, sensitive political issues or copyright infringement or videos and prostitution advertisement is prohibited.
3. Displaying sexual organ or other private body parts is strictly prohibited, e.g. touching sensitive parts, displaying female breast, hips, inner thighs and genital of female and male, wearing see-through clothes etc.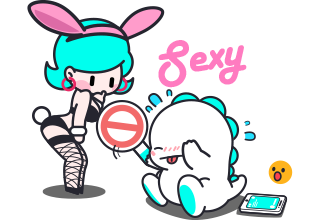 4. Broadcasting gambling is strictly prohibited, gambling live streaming or inciting others to gamble.
5. Broadcasting drugs distribution is strictly prohibited, e.g. displaying drug samples or relevant performance, drug-taking, injection, or interpretation of drug-making procedure etc.
6. Privacy infringement, harming other's security, endangering public interests, invading others safety and cruelty animals is strictly prohibited.
7. Others behavior involving pornography (e.g. moaning), politics, gambling or drug is strictly prohibited.
8. Publicizing competing products, poaching, unlawful deal of diamonds or beans and fraud is strictly prohibited.
9. Broadcasting speech involving terrorism, extremism, war, and religion violations is not allowed.
10. Promotion of sexual toys, aphrodisiac or posting misleading part-time job recruitment information is strictly prohibited.
11. It's prohibited to conduct any behavior that could damage the interest of the official platform.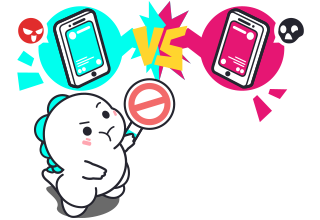 General violations (Class B)
The Dress Code for Hosts:
Hosts should wear appropriately. Wearing no clothing or sexually suggestive clothing is prohibited.
Tops: Underwear outside is prohibited.
Bottoms: The hem of your skirt or shorts should not be above your hip.
Men are not allowed be bare-chested.
Showing bra or underpants is prohibited.
Women are strictly forbidden to expose deep cleavage.
Skimpy outfits, see-through looks, flesh tights, fishnet stockings, garters, thongs, panties, briefs, low waist shorts or any clothes with sexually suggestive meaning in text or graphs is not allowed.
Notice:
Swimming suit is allowed when broadcasting on the beach or in the pool.
Boxing/Gym: Shirtless is not allowed. Only vest or sports suit is acceptable.
All behavior while drinking or after drinking is prohibited.
Smoking or drinking is not allowed.
Any other indecent performance, sexually suggestive acts and voices are prohibited
Defamation, abuse or verbal attack is prohibited.
Harassment or molestation is prohibited.
Any content or activity involving pornography, sexual content to foster an indecent atmosphere is prohibited.
Distributing unauthorized advertisements against state laws and BIGO LIVE policies or illegal advertisements is prohibited. Illegal advertisement like adult products, guns, saber, crossbow, porn, care products, cigarette, aphrodisiac and venereal diseases treatment.
Rules of Broadcasting Places and Circumstances:
Restrictions on erotic entertainment venues like bath center.
Singing and broadcasting erotic music is prohibited.
No live streaming on competing live stream platforms.
In addition to rules above, other people's inappropriate behavior and attire like smoking, shirtless, naked should be avoided in the camera when broadcasting.
When broadcasting, hosts are not allowed to broadcast negative content like sleeping, leaving camera for long time, blank screen or not showing up for long time.
Broadcast or retransmission of live shows, movies or television programs without authorization is not allowed.
Content Instruction:
During broadcasting as guest, if conducting violation Class A or Class B, guest will be punished according to violation of Class A or Class B.
The platform rules apply to users at all ages.
If avatars and covers conduct violation of Class A or Class B, the avatars and covers will be banned and users are forbidden to upload new avatars or covers in 24 hours or 1 hour.
In counties where juveniles broadcasting is not allowed, juveniles are nmeiyot allowed to broadcast.
Breach of Agreement
For the first time violation, BIGO LIVE will terminate your account.
For the first time violation, your account will be suspended from broadcasting for 10 minutes.
For the second time violation, your account will be suspended from broadcasting for 1 hour.
For the third time violation, your account will be suspended from broadcasting for 1 day.
For the fourth time violation, your account will be suspended for 3 days.
For the fifth time violation, your account will be suspended for 7 days.