All BIGO LIVE Diamonds Recharge & Top Up questions are answered in this post. Recharge now to enhance your adventure and maximize your joy of BIGO LIVE.
Q1. How to top-up BIGO Live Diamonds
Method 1: Top up BIGO LIVE diamonds on App
To Top-Up, enter the BIGO LIVE app. Tap on the "Me" icon at the right bottom corner. Then, tap on "Wallet", and you'll be able to select diamond packages.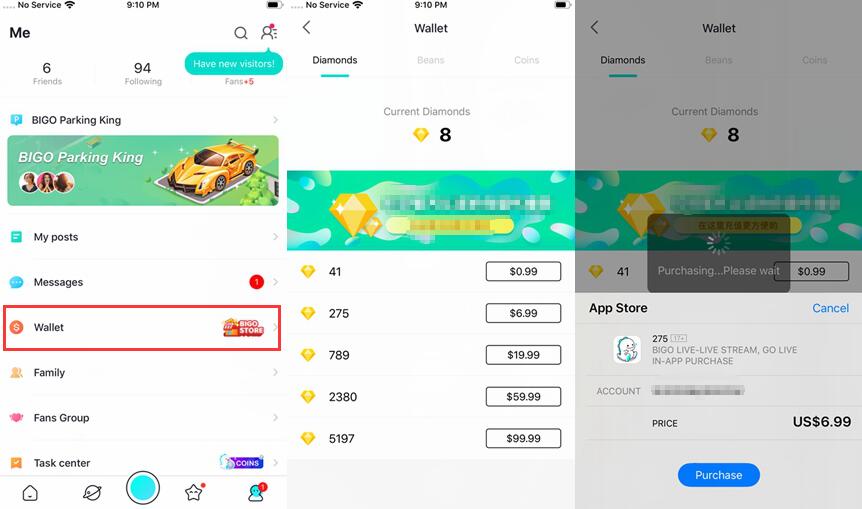 If you are watching a live stream, you can also tap on the gift icon at the bottom, then tap on the "Recharge" at the bottom left, and you'll be able to select diamond packages.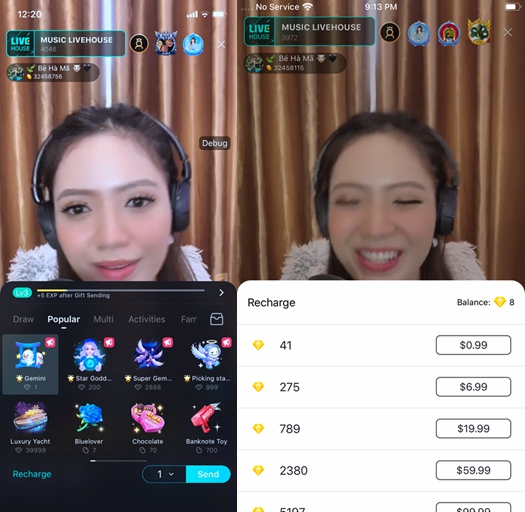 Enter your BIGO ID and select the top up amount.
Check out and select your payment method.
Once payment made, BIGO Live Diamonds will top up.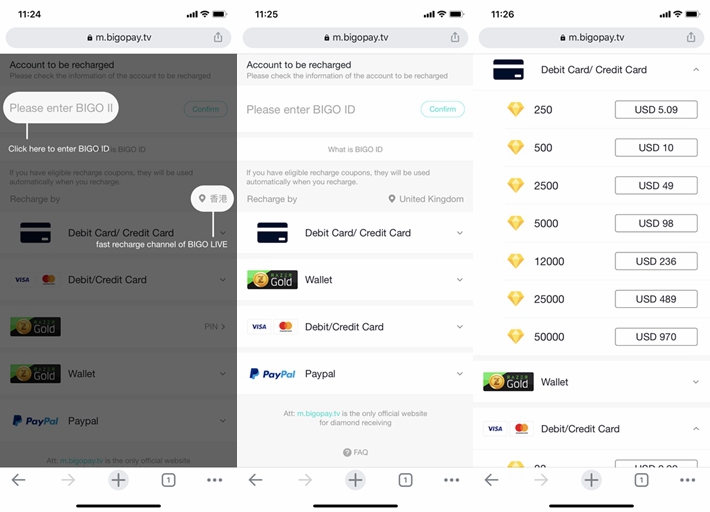 Q2. How to Check If Diamonds Are Added After I Recharged?
Please check the balance in "Me"-"Wallet" after you recharged, diamonds will be added in real time.
Q3. What to Do If the Diamonds Are Not Added After Recharging?
Please send feedback regarding your problem with the following information by Me-Feedback. Our customer service team will help to solve your concern.
Recharge amount
Recharge time & date
Screenshot of the payment receipt (showing the order number)
Q4. What to Do If I Top Up Others' Account by Mistake?
Sorry that it is not allowed to refund, please contact the account owner to communicate about your incorrect top up to cover your loss
Q5. Why Is There Only Google Wallet as Payment Method?
Please download BIGO LIVE, then you can get more top up options based on your regions. Every time you update BIGO LIVE, if the top-up options disappear, please re-download BIGO LIVE from the official website.


Q6. I Can't Top Up, What Should I Do?
Google Wallet: Confirm whether your region supports Google Wallet. If you are using credit card, please make sure the card has not expired. If you are using ATM card, please make sure you have enough balance in the account. If you still cannot Top-Up, you may delete Google Play and restore.
If it cannot solve your problem, please submit your issue via "Feedback"with the following information. Our customer service will help you with it.
Time & Date of Top up
Top up method
Screenshot of the failed notification
Q7. Why My Account is Frozen
To ensure the account safety, please top up via official channels. Any top up via non-official Third Party will lead to abnormal state of the account once it is confirmed, and your account will be frozen thereof.
If you want to unfreeze your account, please submit your issue via "Feedback" and our customer service will help you with it.
That's all the most popular questions about BIGO TV recharge. Does this post answer your questions?