BIGO LIVE is a live streaming app that allows users to steam and interact with other users on the platform. With more than 400 million users, it allows you to live-stream your favorite moments, and make friends from all around the world.
However, as a social media streaming platform, is BIGO LIVE safe (especially for teens)?
First of all, BIGO LIVE wants people to showcase their talent, discover, and stay connected in a positive, healthy, and creative way. Then, we use many effective methods to keep BIGO LIVE Safe. Nevertheless, it doesn't mean that BIGO LIVE is totally safe unless you read and follow the guidelines below. In this post, we want to explain how we can keep us all safe when using BIGO LIVE.
Part 1: Who is BIGO LIVE For
Rated for teens, BIGO LIVE is free to download and use on both iOS and Android devices. Though the majority of live streamers on BIGO LIVE are gamers and aspiring performing artists who brings positive content, some may provide negative or profane commentaries during live streaming. Therefore, for youth under the age of 18, we recommend that you should not use BIGO LIVE.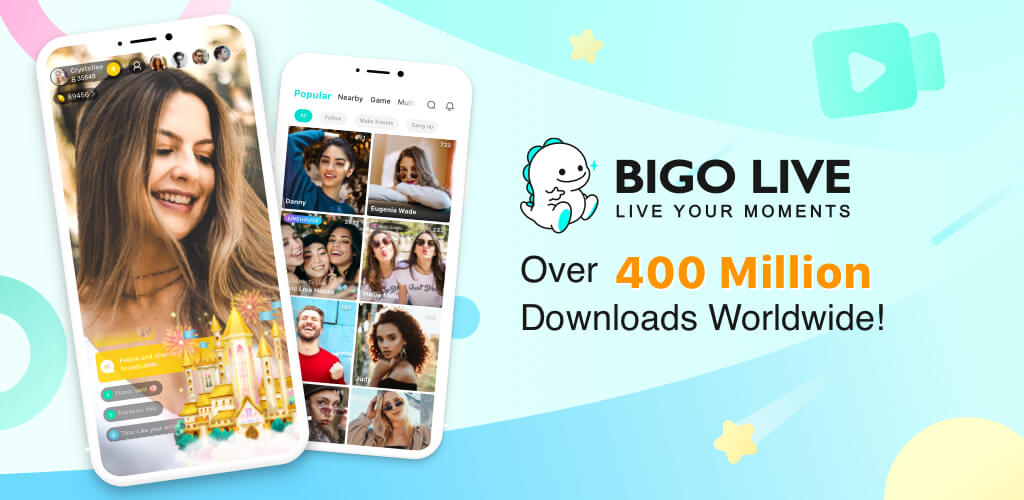 Part 2: What BIGO Do to Keep BIGO LIVE Safe
Method 1: We Show Community Guidelines to Everyone in the App
Smoking, gambling, drugs, pornography, vulgar and violent live contents are not allowed.
Guns, knives and other weapons are prohibited. Do not imitate or dress up like a terrorist, or spread any terrorist's ideas.
It's forbidden to pretend to be BIGO LIVE official staff to post news.
Go live to promote other brands or products without official permissions with BIGO LIVE is not allowed.
Minor is not allowed to stream the live.
It is forbidden to publish contents that violates local laws, customs, and politics as well as cultural, religious, geographical, and personal attacks during the live.
Pirated movies, TV dramas, sports games, variety shows and other copyrighted contents are not allowed to share during personal live.
Method 2: Bigo Live Filters Illegal Content Using AI
BIGO has one of the world's strongest AI Technology to cater to its moderation of content on BIGO LIVE. Whether its Image Recognition, Facial Recognition, Video Intelligence, or Voice Processing, AI is at the very core and forms the roots of BIGO.
AI is also able to detect negative content and issue a ban within 60 seconds. In addition, BIGO has an AI monitoring and surveillance team working around the clock to do the job. Through AI, images and videos with pornography, violence and information related to terrorism can be identified with a 99 percent accuracy rate. The AI Technology brings us a creative and healthy internet environment.
Part 3: How to Report Users or Content in BIGO LIVE
You can report a user who is showing illegal content directly in BIGO LIVE.
Step 1: Click the avatar image of the user at the left top corner.
Step 2: In the pop-up window, click "report".
Step 3: Choose the type of how the use break the community rule.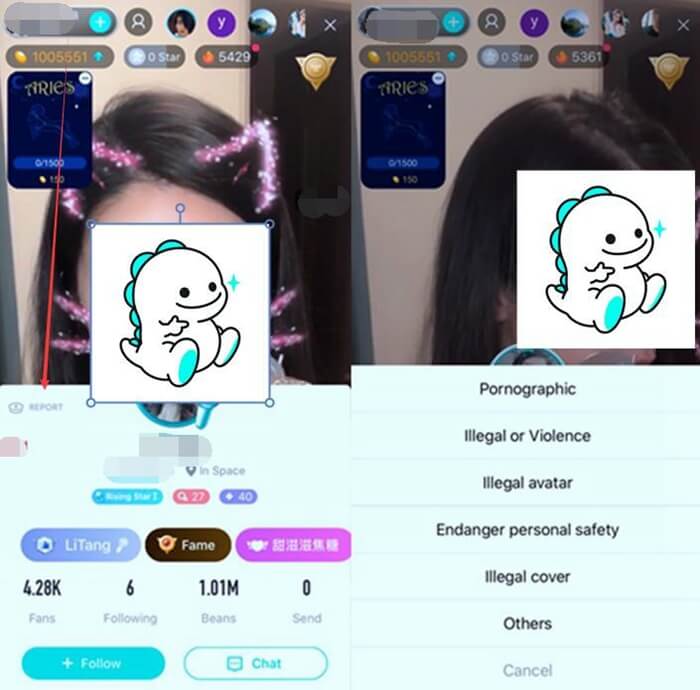 In order to provide better customer service to all users, here you can also find "Help & Feedback" on BIGO LIVE APP and send your feedback to us.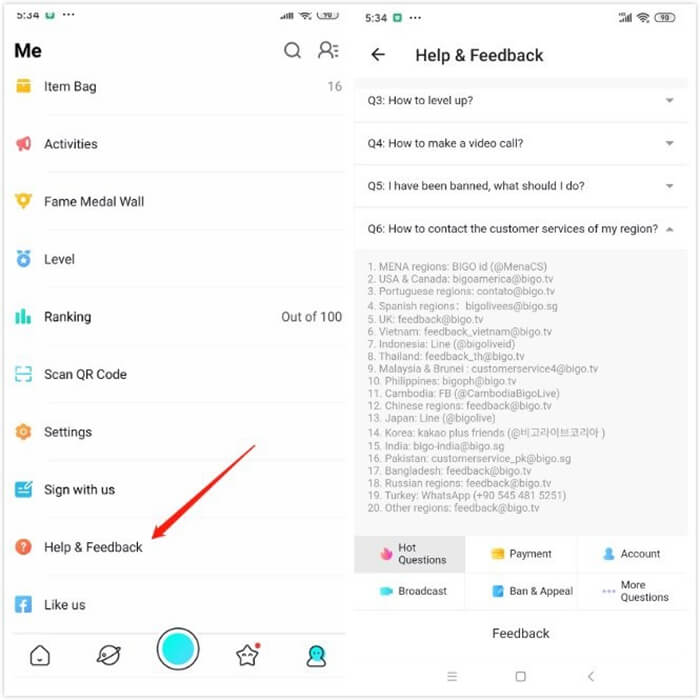 Conclusion
Bigo Live is becoming more and more popular in the world. As a social media app, it surely can be a huge hit among teenagers. However, you must know that the age restriction on the application is 18+. If you found your children under 18 are using this app, you'd better ask them to uninstall this app. If you are an adult who is using this app, you can always report any inappropriate content.
We can all help to keep Bigo Live safe.