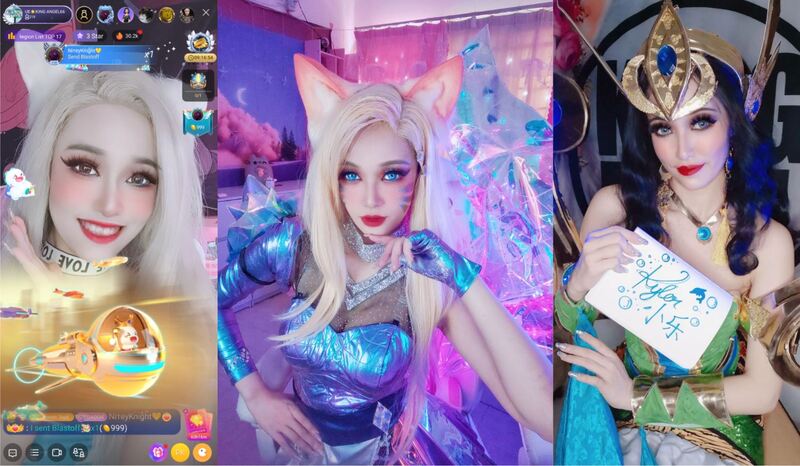 She was a former kindergarten teacher and her love for cosplay and work disruptions caused by the pandemic led her to realise a new professional career in livestreaming.
Angel Chooi, 26 years old, started livestreaming in May 2020 on BIGO Live during the lockdown period.
"I started livestreaming initially as a leisurely activity and to generate a side income. I'm very chatty in nature, and I've always enjoyed entertaining people…it makes me happy to bring joy to others," said Angel.
The avid cosplayer previously shared her love for the hobby via Facebook Live but she subsequently decided to port over to BIGO last year when it started to grow in popularity among the cosplay community.
When the kindergarten she taught in had to shut due to the pandemic, the teacher who had been teaching for nine years decided to get into cosplay livestreaming full-time. Her misfortune turned out to be a blessing in disguise.
Within months, Angel went from earning a normal salary as a kindergarten teacher to raking in a salary that's "upwards of five figures".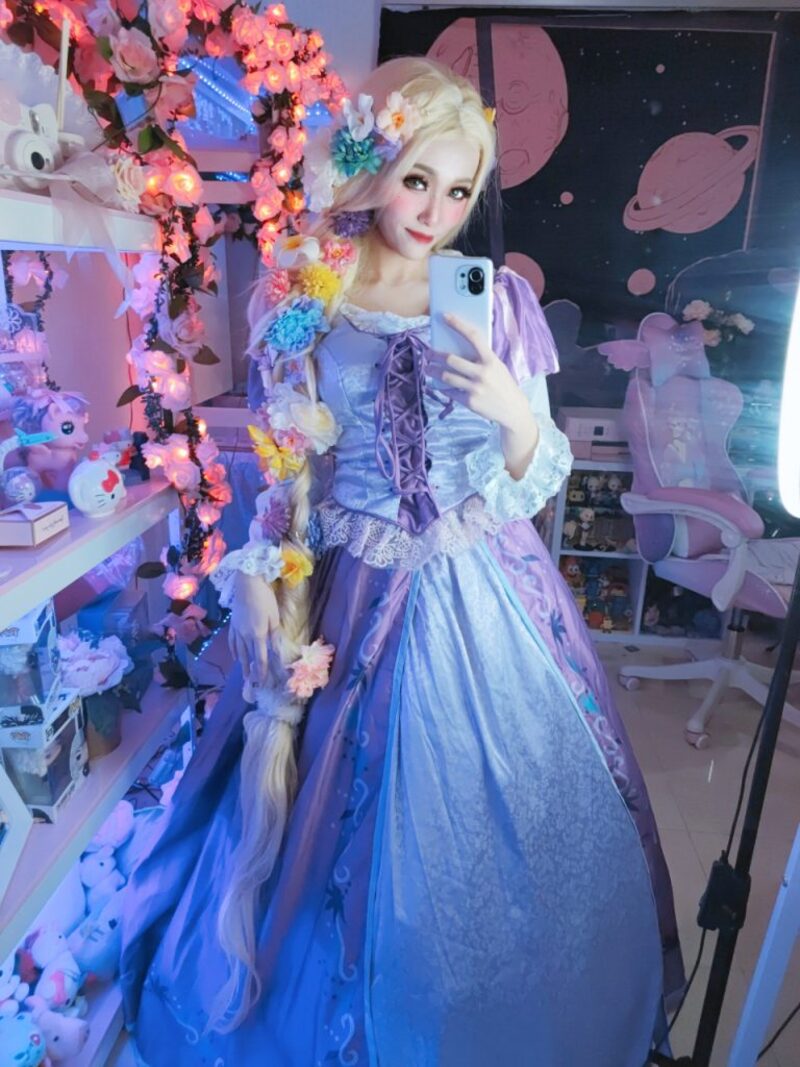 "As physical events were no longer possible due to ongoing restrictions, livestreaming was the only way to keep my cosplaying passion alive…I was making much more on BIGO and for the first time in my life, I can afford to live on my own earnings and even give back to my loved ones."
Angel has since moved out of her family home and is currently renting her own apartment using her livestream earnings.
We sat down to chat with Angel on her new career, life as a livestreamer, virtual gifts, and future career plans.
Life as A Livestreaming Influencer
Q: What do you do on BIGO Live?
A: As a broadcaster on BIGO Live, my main form of content involves cosplaying. I normally stream every day, and during my livestreams I would need to change costumes as much as three times a day.
Some of the things I do include chatting, making puns and dad jokes, singing, dancing, sharing makeup tips, showing behind the scenes (BTS) work for my cosplay costumes and maid cafe, and unboxing livestreams.
It can be a time-consuming process, but I can say that I've devoted all my time to BIGO Live.
I'm most active on BIGO Live, but I'm also on Facebook, Instagram, TikTok and YouTube. BIGO Live is currently my main social media account because it's my main source of income, and I find that livestreaming on BIGO Live is the most fun, so I naturally spend a lot of time and heart here.
Q: What's an average day at work like?
A: I do work every day, unless an emergency arises. I would say every day is a busy day.
The first thing I do after I wake up is to get online and start livestreaming. The job varies on a day-to-day basis because livestreaming is a very flexible medium. I do my best to stream at least three hours a day because BIGO Live does reward hosts and broadcasters for the hours they are online.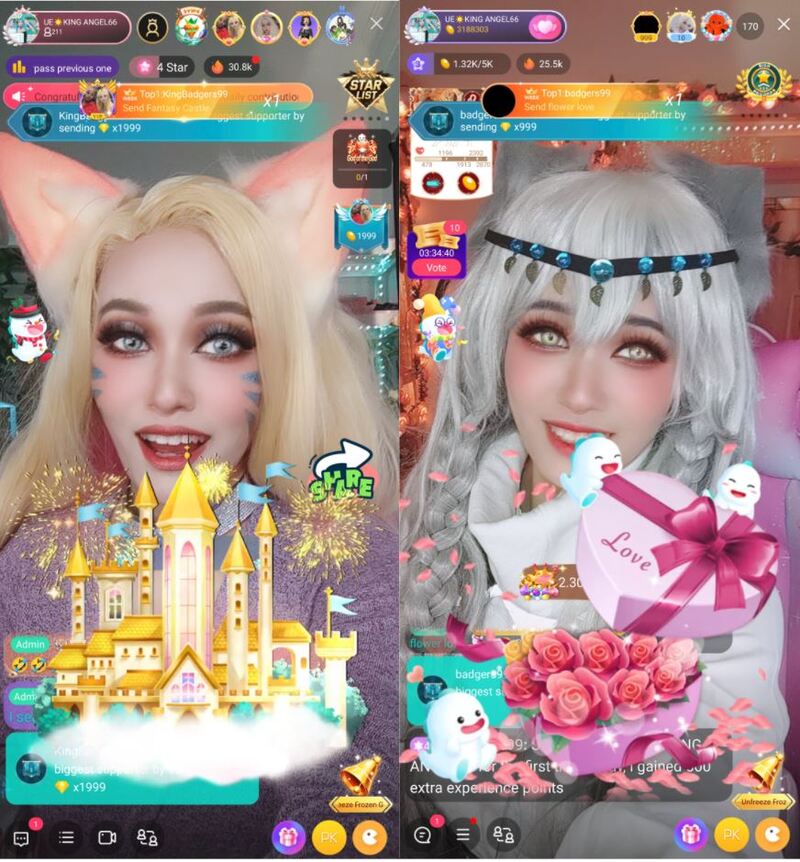 As a broadcaster on BIGO Live's Global Liveshow Channel, I usually cosplay at least 16 times a month. This doesn't bother me as I love livestreaming and cosplaying. Sometimes, I even take up more livestreaming sessions than planned, stepping in for other broadcasters when they are unavailable.
The work I put in is definitely more than just the hours I spend on streaming. I use a lot of time preparing and researching for content and cosplays too. I also spend a huge chunk of my time making rewards for my supporters.
Even though I am stuck at home, I get to dress up every day, look glamorous, and interact with my fans and get paid for it. It's a win-win situation for me as I get to do what I love, namely livestreaming, interacting with my fanbase, and cosplaying!
Earning A Five-Figure Salary
Q: What's the largest virtual gift you got from your followers
A: I've gotten a 'Love Carriage' once, which is worth 29,999 diamonds. It costs around S$780.00 to send one. My top supporter sent it to me during a player knock-out session among livestreamers, which we won that day.
There's no one gift that is regular because BIGO Live keeps releasing new types of gifts and animations. But I usually ask them to send 200 diamonds to get a customised signed fan decal from me.
If they send me 1,000 diamonds in my livestream, they get a customised polaroid of me in my cosplay costume of the day!
Q: Tell us more about your five-figure salary and how did you spend it
A: The biggest takeaway as a Bigo Live broadcaster is achieving financial freedom.
Through Bigo Live, I have managed to rent my own apartment and turn it into a full-fledged cosplay/livestreaming house.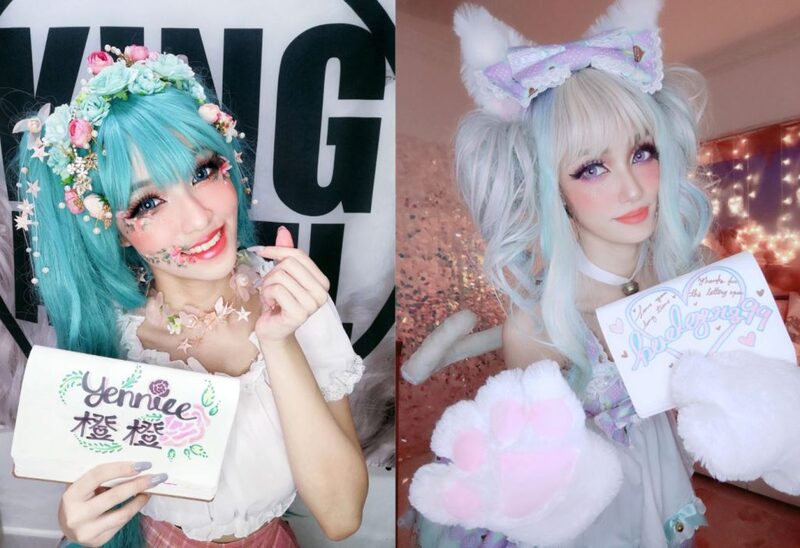 I can now eat whatever I want, go wherever I want, shop comfortably and finally have savings! For now, I'm currently eyeing a giant Pusheen plushie that's worth S$650.00.
Q: How do you manage work life balance?
A: Personally, I mix work with life a lot. I literally wake up and start livestreaming, but that's not for everyone.
From my own experience, livestreaming has helped my cosplay career a lot. And as a cosplayer, you have to always put yourself out there and with BIGO Live, it makes engaging with followers so much easier and more sustainable.
However, I do see people using BIGO as a part time job and they don't want to get their personal lives involved at all. They make new names and new accounts just for BIGO Live. Either way, there's no right or wrong way to do it. Just do what feels right and what you're comfortable with.
Future Plans
Q: Is livestreaming a credible job for your future too
A: My plan for now is to continue livestreaming as long as I can, start traveling and bringing my cosplay all around the world and staying open to trying new things.
I'm now cosplaying full-time and even have the opportunity to interact with users from all around the world on a daily basis. I will continue being a BIGO Live broadcaster in the long run as it is a job that I really enjoy.
Q: Can you leave us one quote to take away from your career path?
A: Be kind to others and be kinder to yourself. Believe in yourself. If others can do it, then so can you.
You can do it as long as you follow your heart and put in a lot of hard work.
Source: Vulcan Post