Leading global livestreaming platform Bigo Live and renowned global cosmetics brand MAC Cosmetics have announced the launch of 'Slay Model Search Asia', a brand-new talent search competition to promote inclusivity and celebrate the transgender community. Held in collaboration with international model management agency, Slay Model Management, the talent competition will seek to scout and present the best of the Asia's transgender fashion talents.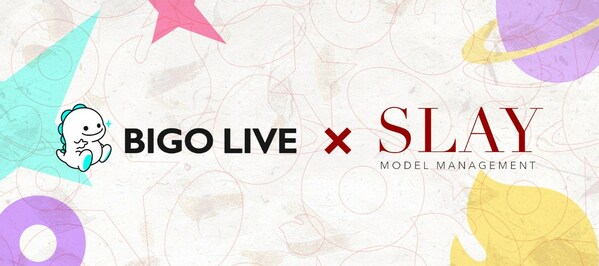 Throughout the month of April, 'Slay Model Search' will feature a diverse pool of contestants from the Philippines and across Southeast Asia who will by vying for a chance to break into the modeling industry. Among them are Abby Ecalnir (BIGO ID: abbysarmiento), Drian Bautista (BIGO ID: Drian_Bautista), Kevin Cusi (BIGO ID: 896057995) from the Philippines; Kanapat Naruphai (BIGO ID: B Kanapat) and Purisa Pathomakekalak (BIGO ID: risa_purisa) from Thailand; Lily Noir (BIGO ID: 895623599) from Malaysia; Fellini Rose (BIGO ID: 895605459) from Vietnam; and Vheny Anggreny (BIGO ID: 895665353) from Indonesia.
'Slay Model Search Asia' contestants has gone live on Bigo Live together with Bigo Live host, Nicole, ID: SimplyNicole2021. On 17 April, 8pm – 9pm and 18 – 21 April, between 4pm – 5pm; where they utilised the livestreaming platform's multi-guest rooms feature to host mini-talk shows. Bigo Live users have had an intimate livestreaming session where they had the opportunity to interact with and learn more about the contestants. These sessions contained vote boxes where Bigo Live users can cast their votes for their favourite contestants. Voting was open to all Bigo Live Philippines users and interested members of the public were encouraged to download the Bigo Live app to participate in the voting process.
The competition will culminate in the grand finale on Thursday, April 27 where the winning model will receive coveted prizes like a trophy and a gift cheque of 1 million beans from Bigo Live. It is expected that hundreds will attend, including representatives from modelling and talent agencies, members of the LGBTQ community, and Bigo Live supporters. Catch the live action on BIGOID: PHLIVEOFFICIAL, on 27 April, 8pm.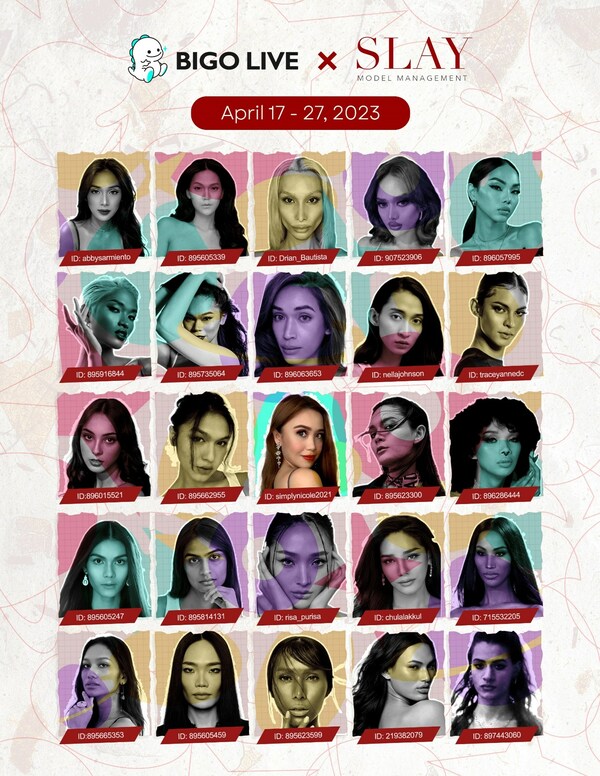 "We are incredibly excited to be part of the inaugural Slay Model Search in Asia. As a platform that celebrates diversity, equality, and inclusion, we hope to celebrate the best of Filipino and Southeast Asian talents regardless of their gender, sexual orientation, or background. Through 'Slay Model Search Asia', we want to be a champion for the region's LGBTQ+ community and provide them with the opportunity to showcase their talents to a global audience," said Chancy, Country Manager of Bigo Live Philippines.
In December 2022, Bigo Live organised the second edition of its annual BIGO Philippines Awards Gala 2022. This event served as a celebration of the thriving Bigo Live Philippines community and showcased the remarkable level of talent present on the platform. 'Slay Model Search Asia' is a continuation of Bigo Live's ongoing commitment to fostering talent and offering broadcasters an exceptional platform to showcase their skills and achieve their career aspirations.
To join Bigo Live's global community and catch some of Bigo Live Philippines' most exciting talent, please visit https://www.bigo.tv/ or download the Bigo Live app (available on iOS and Android). Follow Bigo Live Philippines on Facebook for more updates. Follow BIGO ID: PHLIVEOFFICIAL to catch the exciting finale of "Slay Model Search Asia" happening on 27 April, 8pm.