Are you on the hunt for the best live streaming apps for your iPad?
Given the rising popularity of live streaming, it seems intuitive to have these apps available on devices with larger screens, like the Apple iPad. However, it's not as straightforward as it seems. Even big-name apps like Instagram and WhatsApp haven't ventured into iPad-specific apps yet. The reality is that many companies lack the resources to create separate apps for both iPhone and iPad.
Finding the best live streaming apps for iPad can thus seem like a daunting task. But, fret not. We've combed through the entire App Store to curate a list of the best live-streaming apps compatible with your iPad. Get ready to enjoy live streaming on a grander scale!
Stream Bigger, Better: The 7 Best Live Streaming Apps for iPad
1. BIGO LIVE for iPad
BIGO LIVE is one of the most popular live streaming apps in the World. Till now, it has attracted more than 400 million users. Thankfully, it has the iPad version.
If you mainly enjoy watching live streaming video, Bigo Live offers a diverse range of content across various verticals, including music, gaming, outdoors, cooking, and social commerce. One of the most popular programs on the platform is Music Livehouse, a 24-hour livestream event featuring singing, dancing, and other musical performances.
If you are a streamer, you may be interested in its monetization mechanism. What makes Bigo Live stand out among other social apps is that it allows users to earn money on the app. Followers of livestreaming sessions can send virtual gifts called "beans" to live streamers, who can then exchange them for cash. At the present exchange rate, 210 "beans" can be traded for 1 US dollar.
Popular Countries: United States, Vietnam, Saudi Arabia, Brazil, Indonesia, Thailand, Japan, Turkey, Russia, Germany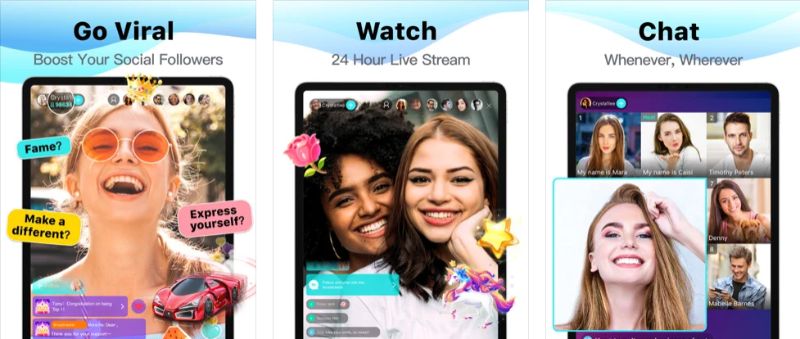 2. Twitch for iPad
Twitch is the most popular game live streaming app. Many people like to watch game live streaming on PC for better visual experience. The good news is that you can also watch live game streaming on Twitch iPad.
Twitch also features a wide variety of content geared towards live and recorded broadcasts covering music, talk shows, sports, travel, and food.
Popular Countries: United States, United Kingdom, France, Japan, Germany, Brazil, Mexico, Russia, Canada, Australia, South Korea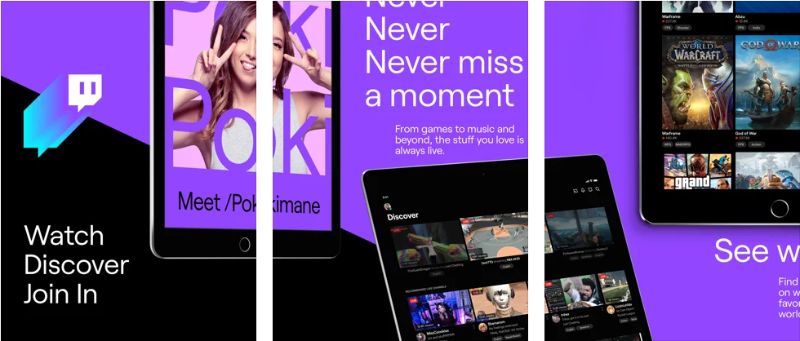 3. V LIVE for iPad
If you are a fan for some Korean stars, you may have heard V LIVE.
V Live, also known as V App, is a popular mobile application that allows users from around the world to communicate with their favorite stars via live video streams.
The app has been developed specifically for South Korean stars who can use the service to broadcast videos and live chat with the fans in any country.
V Live also have iPad version. You can download it on your iPad to see your idols on bigger screen.
Popular Countries: Japan, United States, South Korea, Thailand, Vietnam, Philippines, Indonesia, Saudi Arabia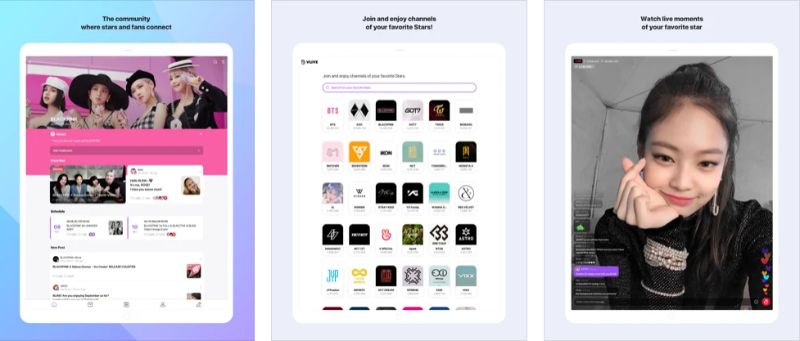 4. Tango LIVE for iPad
Tango is also a leading global live streaming platform that empowers content creation, social connections, and fan monetization in real-time.
The app enables you to go live on the platform and interact with your audience in your own way. Also, you can talk and chat with talented people nearby or from all over the world. Or you can create a personal group video or message chat for group conversations with special fans and friends
Popular Countries: United States, Saudi Arabia, Turkey, India, Egypt, Philippines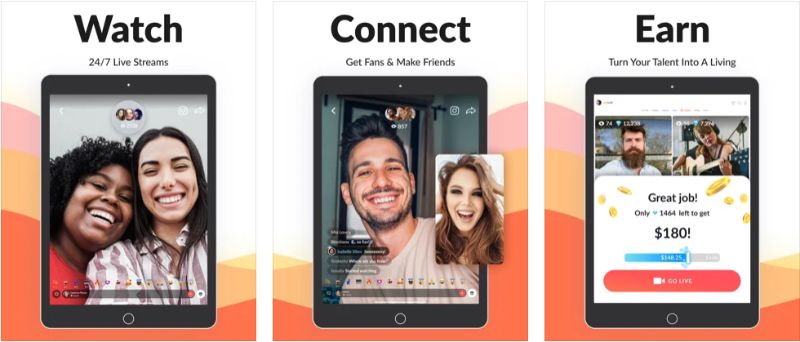 5. YouNow for iPad
Compare to BIGO LIVE and Twitch, YouNow is less well-known. It was founded by Adi Sideman in September 2011, but significantly grew in popularity during 2014 and 2015. In 2017, YouNow began losing user broadcasters, including many partnered users and their fans. In 2019, in an attempt to bring user broadcasters and fans back, YouNow developed and implemented similar features that BIGO LIVE and Twitch already had on their social media platforms.
Now, YouNow also allows users to stream their own live video content or interact with the video streams of other users in real time.
Popular Countries: United States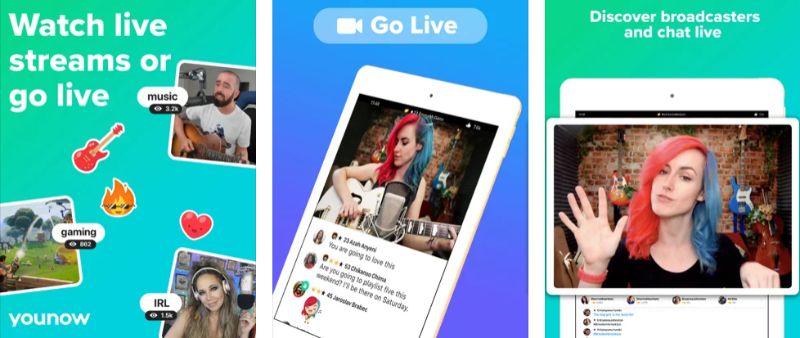 6. LiveMe for iPad
LiveMe is another live streaming social network. It allows you to live stream your special moments, watch great live streams, and video chat online with people worldwide.
The service, which claims to have amassed more than 60 million global users and streams around 300,000 hours of footage a day, is aimed at giving creators a 'platform to reach a wide audience and share their talents and passions directly with their fans'.
Live.me has been removed by Google Play store as part of the broader action against Cheetah Mobile, their parent. However, you can still download Live.me on your iPhone or iPad.
Popular Countries: United States, Brazil, United Kingdom, Russia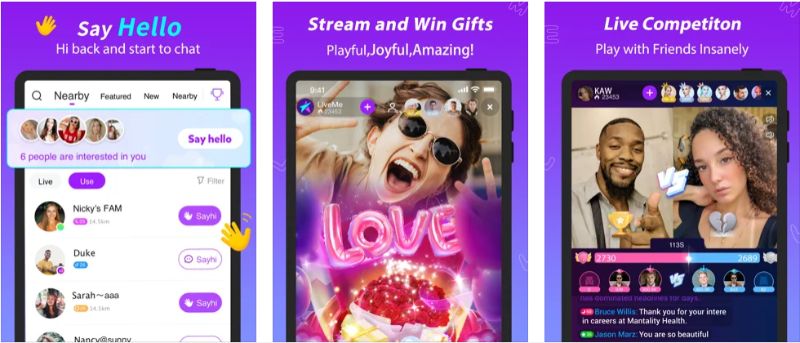 7. MeMe LIVE for iPad
MeMe Live was founded in 2016 to enable users to watch live broadcasting anytime, anywhere and engage with the audience via live chats.
It allows you to live stream your special moments, live talk and video chat with your friends. Millions of talented broadcasters, passionate dancers and singers, comedians, etc. present you amazing live streams and live videos on the platform. It further provides services such as free live video chat & call, multi-call chat rooms and lets you create own radio channel.
However, this app is mainly popular in India where iPad users are rare.
Popular Countries: India, Taiwan, Malaysia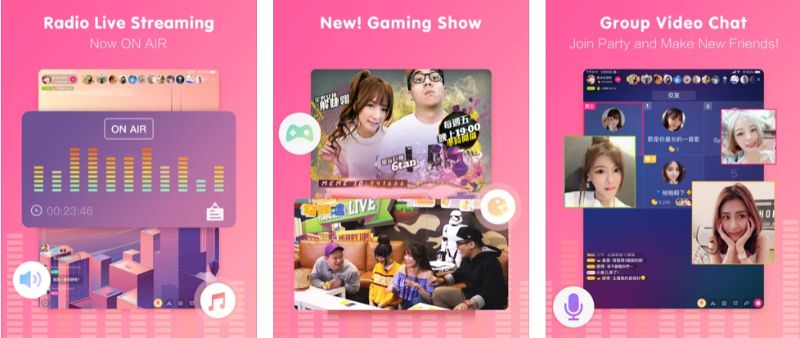 Which Live Streaming App for iPad is your Favorite?
Based on functionality and neat features, which live streaming app for iPad has won your over? As we mentioned above, most of these live streaming app are popular in united states. If you are live out of US, BIGO LIVE and Twitch could be the best choices, because both of them are popular around the world. Of course, if you are live in India, MeMe Live is also a good choice.
It would be really cool to know your pick.