BIGO LIVE is a popular live streaming platform that has gained worldwide recognition for its interactive features and large, diverse community. While it initially gained popularity for live chatting and broadcasting, the platform has significantly evolved over the years, incorporating additional features like gaming. As of now, BIGO LIVE provides its users with the unique ability to play and watch live games, fostering a vibrant gaming community.
This article will guide you on how to maximize your BIGO LIVE gaming experience, whether you want to play or simply watch live games.
How to Play Games on BIGO LIVE (Mobile Phone) ?
1. Signing Up for BIGO LIVE
To start playing or watching games on BIGO LIVE, you need to create an account first. BIGO LIVE is available on both iOS and Android platforms. You can download it from the App Store or Google Play Store, respectively. After installing the app, follow the instructions to create an account using either your phone number, Facebook, Google, or Apple account.


After setting up your BIGO LIVE account, familiarize yourself with the interface. The app provides a multitude of features, including chat rooms, live broadcasting, and gaming. You can access the gaming section by clicking on the 'Game' icon in the app's navigation bar. This will take you to the gaming hub of BIGO LIVE.
3. Playing Games on BIGO LIVE
Within the gaming hub, you'll find a vast array of games. To play a game, click on the game of your choice, then click on 'Play.' Certain games may require additional downloads or plugins, which the app will prompt you to install. Make sure you have a stable internet connection to ensure seamless gameplay.
One feature that differentiates BIGO LIVE from other platforms is that it allows you to live stream your gameplay. To do this, simply click on the 'Go Live' button before you start playing your game. This will broadcast your gameplay to other users on BIGO LIVE.
4. Watching Live Games on BIGO LIVE
To watch live games, go to the 'Game' section of the app and select 'Live Games.' This will display a list of users currently broadcasting their gameplay. You can click on any live stream to start watching.
BIGO LIVE also allows you to interact with streamers and other viewers. You can leave comments, send gifts, and participate in chat rooms during a live broadcast. This interactive feature creates an immersive viewing experience that replicates the communal spirit of offline gaming.
5. Participating in BIGO LIVE Gaming Events
BIGO LIVE hosts a variety of gaming events regularly. These events often feature popular games, professional gamers, and substantial prizes. To participate or watch these events, stay updated with BIGO LIVE's event schedule. You can find this information in the 'Events' section of the app or on their official social media pages.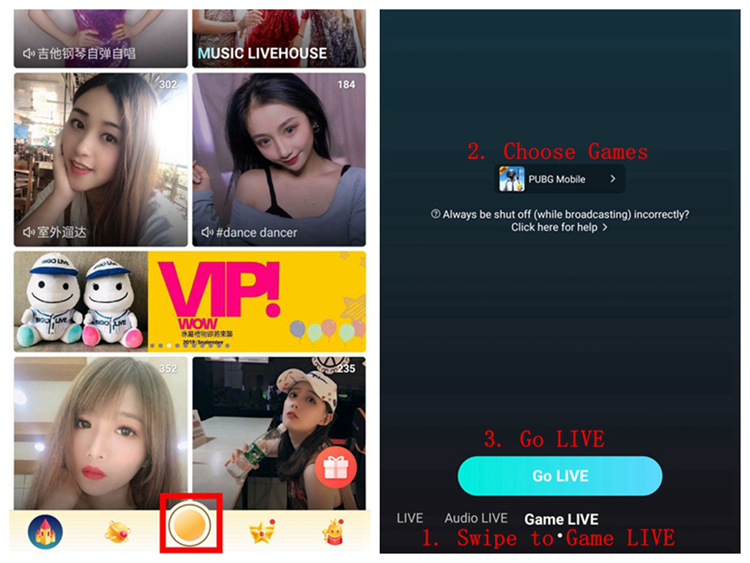 How to Broadcast Games on PC?
Open Bigo Live
Tap the round icon in the middle of the bottom and swipe to "Game LIVE"
Switch to PC platform at the top (The default one is mobile platform)
Scan QR code of Bigo Live Connector (40 MB)
Is it straightforward and convenient?
You must be tired after live-streaming. Watching others' game show is a good way to relax, which can also be done in Bigo Live. Just Go to the official website or the Game channel in the app. The entrance is quite conspicuous, and you won't miss it.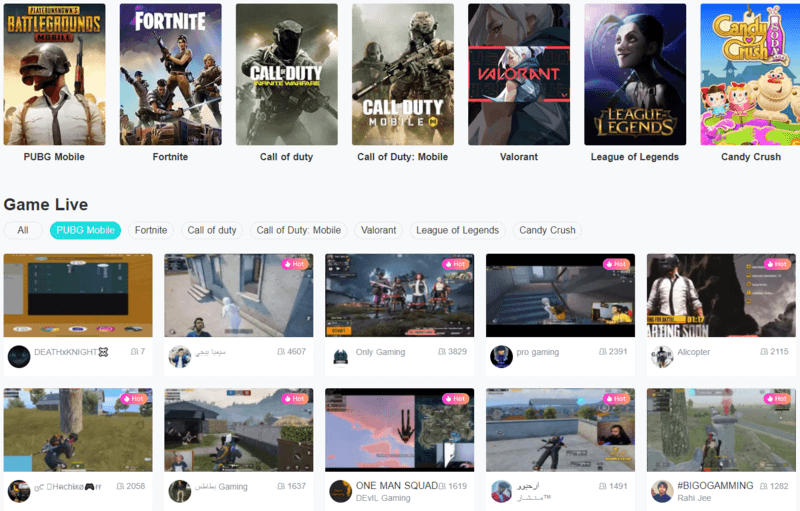 Why not download Bigo Live to have a try? I am sure that you will enjoy your game live journey.
🔥More Bigo Live Tutorials: