The surge of mobile commerce has paved the way for a revolutionary shopping experience – live shopping. Live streaming shopping Apps have fundamentally altered the online shopping landscape, enabling shoppers to explore and acquire products in real-time. These platforms bring a refreshing twist to retail by combining the thrill of live video with the convenience of online shopping.
In this enlightening article, we're set to delve into the top 10 live shopping apps that are reshaping the way we shop today. Let's dive into this captivating world of real-time retail therapy!
Best Live Shopping Apps: 10 Platforms for Shopping on the Go
1. Amazon Live
Amazon Live is one of the most popular live shopping apps out there, and for good reason. The platform is well-designed, and features a variety of products across categories such as beauty, home, electronics, and more. Viewers can tune into live broadcasts from popular influencers and celebrities, and make purchases directly from the app.
2. Instagram Live Shopping
Instagram is one of the most popular social media platforms, boasting over two billion users. In 2020, the company expanded its Instagram Shop with the introduction of Live Shopping. This feature allows businesses to sell products directly during Instagram Live broadcasts.
With Instagram Live Shopping, businesses can customize their content and schedule their broadcasts, as well as upload up to thirty product pictures. The platform also offers the option to invite influencers as co-hosts to boost engagement with viewers.
One potential downside of Live Shopping is that live video streams only remain on the page for twenty-four hours, limiting the potential reach for followers who may have missed the broadcast.
It's important to note that Live Shopping is currently only available to brands and IG business accounts based in the United States, limiting the number of users who can take advantage of this feature.
3. Popshop Live
Popshop Live is a new player in the live shopping app scene that has gained a lot of attention for its unique approach to e-commerce. Launched in 2020, Popshop Live allows merchants to host virtual live shopping events in which they can showcase their products and interact with viewers in real-time.
Unlike other live shopping apps, Popshop Live offers a playful, gamified shopping experience. During the live events, viewers can participate in fun activities, such as virtual scratch-off games and prize wheels, to win discounts and rewards. The app also features a chat function that allows viewers to ask questions and interact with merchants and other shoppers.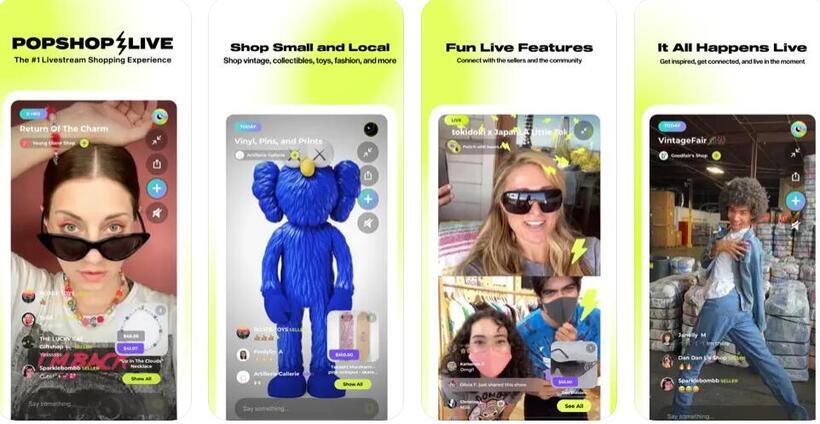 4. AliExpress Live
AliExpress Live is a live shopping platform from Alibaba's AliExpress, which allows users to browse and purchase products from Chinese merchants in real-time. The app features a wide range of products at affordable prices, and is a great option for those looking for unique and affordable products.
5. Bigo Live
Bigo Live once launched the Bigo Marketplace. With Bigo Marketplace, Bigo Live has launched a new feature called "Shop" on the Bigo Live app which users and broadcasters alike can access for an easier and convenient shopping experience. The "Shop" feature is currently available to vendors who have already signed on to the Bigo Marketplace program and enables them to direct Bigo Live users to their brand or product's website during their livestreaming sessions.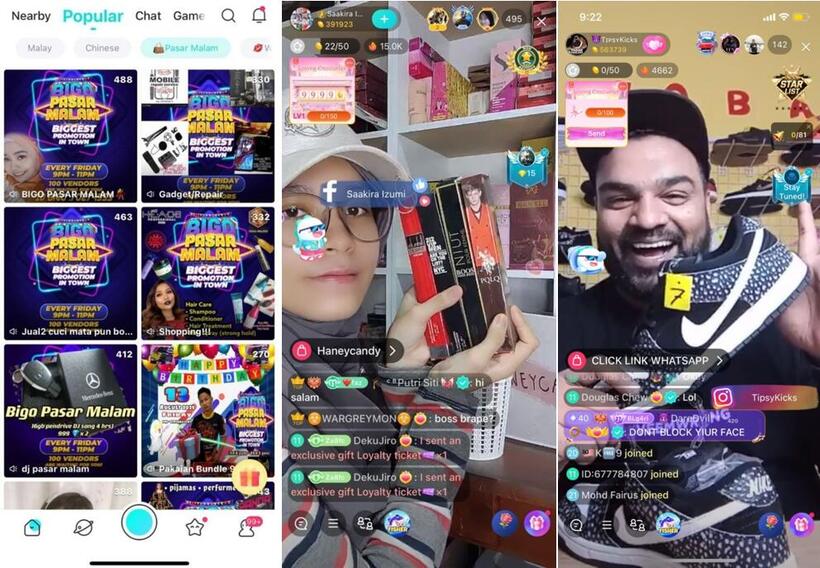 6. TikTok Shop
TikTok Shop is an e-commerce feature on the popular short-form video app, TikTok. The feature allows users to browse and purchase products directly from the app, making it a one-stop destination for both entertainment and shopping.
What makes TikTok Shop unique is its integration with the app's content. Users can watch videos featuring the products they're interested in, and purchase them directly from the video. This seamless integration of content and commerce makes it easy and fun for users to discover and purchase new products.
Please note that TikTok Shop is only available in United states, United Kingdom, China, Thailand, Indonesia, Malaysia, Vietnam, Philippines, and Singapore.
7. Shopee Live
Shopee Live is a feature of Shopee, an e-commerce platform in Southeast Asia and Taiwan. The feature allows sellers to broadcast live streams showcasing their products and interact with viewers in real-time. Shopee Live provides a fun and engaging way for sellers to connect with potential customers, and for users to discover new products and deals.
During Shopee Live broadcasts, viewers can ask questions and make purchases directly from the video. The feature also allows sellers to showcase their products and provide demonstrations, making it easier for users to make informed purchase decisions.
8. Kumu
Kumu is a social networking app that features live shopping events, as well as a range of other content such as music, comedy, and talk shows. The app allows viewers to purchase products in real-time, and is a fun and engaging way to discover new products and brands.
9. ShopShops
ShopShops is a shopping app that offers live streaming of products from various stores around the world. The app features hosts who visit physical stores, show customers around, and answer questions in real-time. Customers can purchase products directly within the app, and the app also offers language support for non-English speakers.
10. QVC
QVC is a shopping app that offers live video streams and features a variety of products from fashion, beauty, home and garden, kitchen, electronics and more. The app features host-led live shows with product demonstrations, customer reviews, and the ability to buy products in real-time.
Summary
In conclusion, live shopping apps have become a popular way for people to shop online. These 10 apps offer a range of products across categories, and provide users with an engaging and interactive shopping experience. Whether you're looking for unique and one-of-a-kind products, or just looking for a fun way to shop, these live shopping apps have something for everyone.