Bigo Live has surged in popularity, resulting in an ever-increasing user base. This popularity, however, has given rise to a troubling trend: the alleged hacking of Bigo Live for the illicit procurement of unlimited diamonds, a form of virtual currency used within the app. Several tutorials and modified (MOD) applications promise to successfully hack Bigo Live, offering users free diamonds. But can they really be trusted?
At the very start, it's imperative to make one thing clear: such websites and applications making grandiose claims of free diamonds are typically deceiving you. Trusting them exposes you to significant risks, such as financial loss without receiving anything in return, or even the theft of your personal information. Therefore, extreme caution must be taken!
In essence, what is the Bigo Live Hack?
When we mention 'Bigo Live Hack,' it pertains to unlawful activities aimed at exploiting system glitches to secure free beans, diamonds, and other virtual gifts without incurring any cost.
Why is a Bigo Live Hack Potentially Harmful?
Before delving into why Bigo Live hacking is hazardous, it is essential to understand that fraudulently acquiring beans or diamonds is, in reality, not feasible. This impossibility is anchored on two key reasons.
Firstly, Bigo is a firm deeply rooted in advanced technology, employing cutting-edge techniques such as facial detection and recognition systems.
Secondly, it has a formidable cybersecurity team composed of over a thousand programmers. This ever-growing team diligently works on code-related fields, IT infrastructure, and cybersecurity. This team is continually rectifying glitches and enhancing the system, making it virtually impenetrable. If an individual somehow manages to break through and hack virtual gifts, they would immediately encounter Bigo's secondary defense layer: the monitoring system. This system diligently scrutinizes data abnormalities to identify any fraudulent activities.
Upon confirmation of any cheating, Bigo implements stringent punitive measures. Thus, the risks associated with hacking are significant, making it an endeavor that isn't worth pursuing.
How can one Shield Themselves from a Bigo Live Hack?
With the proliferation of Bigo Live hacking tutorials online, it begs the question, what is their objective? The answer, quite simply, is fraud and deception.
Most of these guides coerce users into downloading an application under the pretense of facilitating free beans and diamonds. In truth, these applications are generally laced with malicious software or viruses. In many instances, merely clicking a link can unknowingly transmit this malware to your device. Once embedded, these viruses can stealthily extract personal information, including passwords. Should you have linked bank cards to any applications on your device, your financial security is under threat.
The most effective method of preventing this is by disregarding any form of hacking tutorial, echoing the timeless proverb, "There's no such thing as a free lunch."
What is the Authentic Method of Securing Beans and Diamonds?
The only legitimate means of acquiring these virtual gifts is through the recharge feature available in the app. The 'Help & Feedback' section within the Bigo Live app provides official tutorials instructing users on how to top up and resolve common issues.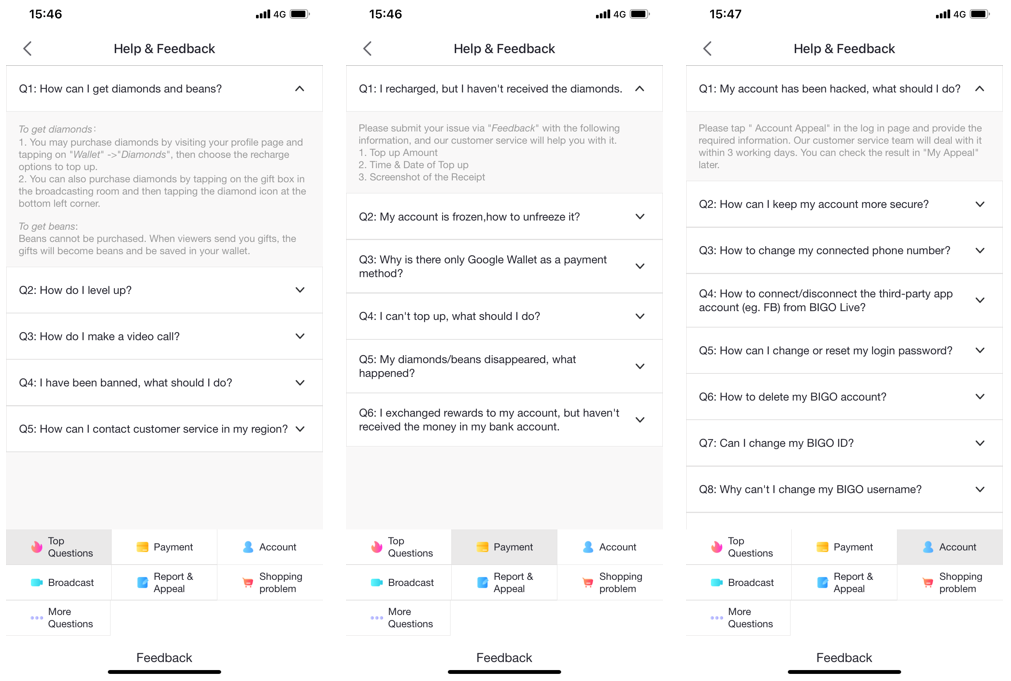 Conclusion
In conclusion, it's critical to remember that Bigo Live hacking tutorials found online are generally deceitful. Firstly, they do not yield the promised results. Secondly, engaging with them puts your security at severe risk. As such, always choose the legitimate route when seeking to procure virtual gifts on Bigo Live. Doing so will ensure that your experience with the app remains secure and enjoyable.
Download BIGO LIVE App!