Each year on March 31, people around the world recognize Transgender Day of Visibility to raise awareness about the community, celebrate the accomplishments of transgender and gender nonconforming people and address the work that still needs to be done to achieve trans justice.
We are dedicated to supporting our transgender creators and are excited to host a curated slate of events with the theme "My Identity, My Voice" for our community to come together, celebrate, and support trans accomplishments.
Transgender Day of Visibility Event Schedule
An all-day Livehouse | 9am – 9pm PDT
Our Livehouse will be a dedicated opportunity for users to share their story or spread their message of support as a member of the transgender community or as an ally.
Family Solo Lives | 9am – 9pm PDT
This is a Family solo live event to show your love and support to the transgender community
Wave the Flag – Trans Visibility Pride in a Live! | All Day
Sign up for Wave the Flag and receive a rebate on every Trans Visibility Pride Flag sent in a live! Earn up to a 100% beans rebate! Every Pride Flag gifted also enters you in a raffle for a Bigo Dino Wearable Blanket!
Born This Way PK | 3pm – 9pm PDT
Hosted by one of Bigo Live's most talented creators, PK, join the community to celebrate being yourself!
Community Panel – "Transgender Pride: Celebrating Diverse Voices" | 6pm PDT – 7pm PDT
Hosted by Jaguar Evermoore (BIGOID:jaguarevermoore), join Bigo Live's talented creators as they come together in a primetime multi-panel event that will be showcased at the top of all North American users' popular page!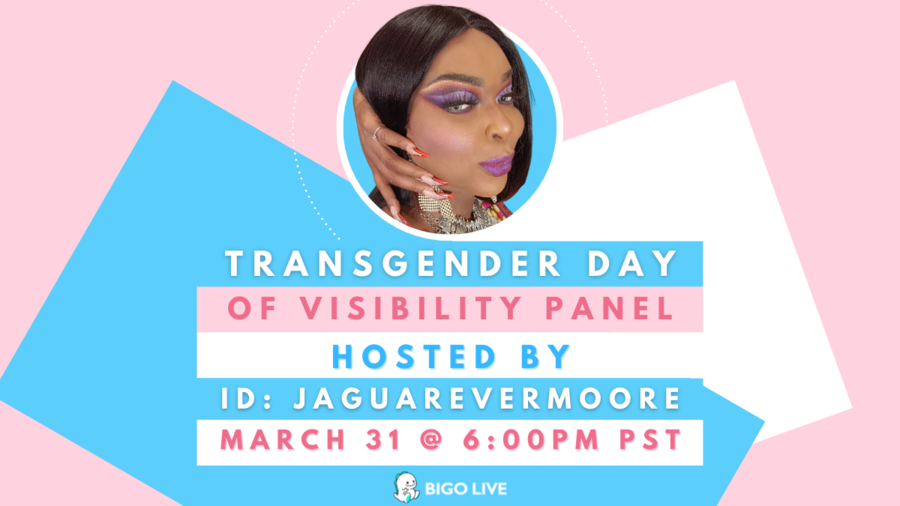 We continue to be blown away from the outpour of love and support for our Trans and LGBTQ+ community each and every day, and it is an honor to present this spotlight for Bigo Live's brightest stars.