We have good news if you're a video game streamer, or like watching them. Live streaming video platform Bigo Live is making new inroads in Europe, with a focus on gaming. Those looking to build a following should pay attention.
Bigo Live already has over 400 million users, is one of the world's fastest-growing live-streaming platforms and a true master of engagement. It offers a system of points, levelling-up and rewards that fits perfectly with gaming content.
As part of this European expansion, Bigo Live teamed up with two of the biggest names in mobile gaming.
From June 28 – July 14, it held a month-long tournament of King of Avalon events, a best-seller in 70 countries with over 100 million downloads globally. Participants were given in-game currency rewards, and streamed gameplay shows were held at 9pm (GMT+2) every evening.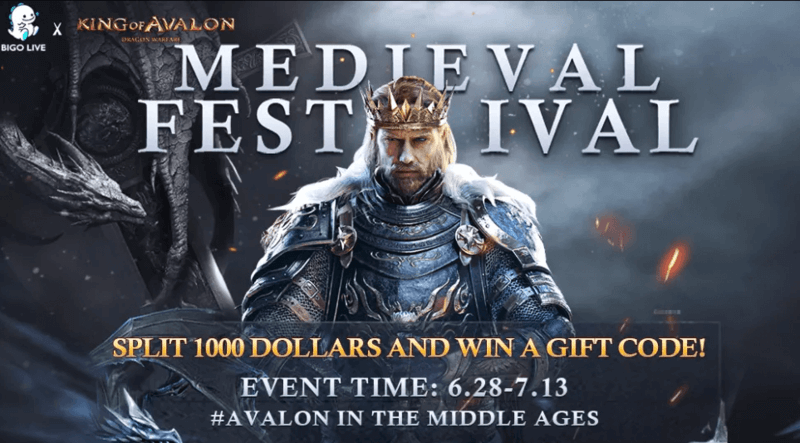 To get the ball rolling with this partnership, Bigo Live enlisted the help of some of the most-watched gaming stars on the platform including Maxim (Bigo Id: 758731816), Evgueny Henry (Bigo Id: 757257308) and Effa (Bigo Id: 757298451).
King of Avalon is a mobile strategy game set in medieval Europe. You build your kingdom, train armies and march them right into the lands of other players. It's exciting stuff.
"There has always been a certain cross-cultural appeal to gaming and live streaming; KOA hopes to explore new models of strategy game broadcasting through this cross platform partnership with Bigo Live," says King of Avalon's publishing team.
Streamed Games for Anime Fans
There's more to Bigo Live's big game streaming push too. It has also partnered with the makers of Saint Seiya Awakening: Knights of the Zodiac for a series of streaming events running from July to September 2021, in France.
Bigo Live users will receive free in-game items to spice-up play and keep your viewers interested. Saint Seiya Awakening: Knights of the Zodiac already has a strong player versus player (PvP) community, and previous streamed events have attracted massive audiences.
The game, published by Gtarcade, is a mobile RPG based on the popular Saint Seiya manga by Japanese manga artist Masami Kurumada. It has been downloaded over 30 million times worldwide.
Saint Seiya Awakening: Knights of the Zodiac brings the classic characters, plot, and atmosphere of the manga to life and offers a complex, strategic turn-based gameplay, with highly competitive and strategic PvP battles, and visually attractive graphics, it is a fantastic option for a streamer who wants to keep the audience engaged.
"Users value the variety and quality of our content and enjoy engaging directly with the creators they love through interactive games. It is why we are continuously expanding our content and aiming to provide them with more interactive entertainment", said a spokesperson from Bigo Live.
"We are excited to partner with Saint Seiya KotZ and KOA to roll out our gaming initiative in Europe. It is a real mixture of industry legends and new rising talents."
It's All in The Game
Why try Bigo Live rather than one of its rivals? It uses fun mechanics on the platform itself. For example, audience members can gift diamonds to streamers. It's how you can monetize your videos. There's also a PK mode where streamers go head-to-head to see which will entertain the audience the most, and daily leaderboards where you can see how your streams compare to those of your rivals.
Bigo Live is a great place to stream your games, and there are game-like elements to the platform itself. Want to check it out?
BIGO Live users can watch the upcoming Saint Seiya Awakening: Knights of the Zodiac events by going into the app and tapping the event icon in the new Games section. Gamers and followers can interact outside of the stream using BIGO Live's unique features that allow them to share posts, images, and videos with each other. For more information, download the Bigo Live app or visit our official website.
Source: https://www.techradar.com/news/bigo-live-offers-a-new-more-fun-way-to-live-stream-your-games