Hi BIGOer, we sincerely invite you to join our fundraising live to help combat COVID-19. We know that now it's still a challenging time for many people worldwide. Team up with our talented broadcasters from all across the world! All you need to do is to support our performers in Music Live House and donate by beans/tickets on BIGO LIVE. All beans raised throughout the event will be donated to World Health Organization (WHO).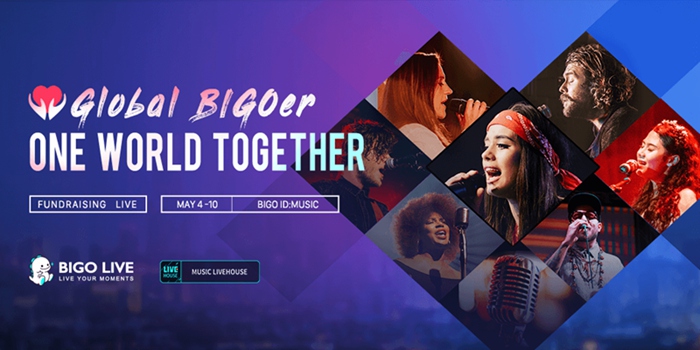 Event Story
A fundraising live streaming event hosted by BIGO LIVE for making donations to World Health Organization's COVID-19 Solidarity Response Fund to support the frontline healthcare workers and people who in need. All beans of equal value raised by broadcasters and their fans will be donated to WHO by BIGO LIVE.
Timeline
5/4-5/10
Series of live streaming battles to select the top broadcasters for the live concert on 5/14. Official broadcasters from all over the world will showcase their talents including singing, dancing and instruments on BIGO LIVE. Users can vote by tickets/beans for their favorite broadcasters in Music Live House on BIGO LIVE. For each country or region, top 6 winners who get the most tickets/beans will have the access to be performers for the live concert on 5/14.
5/12
A music video showcasing solidarity was put together by over 100 broadcasters from over 20 countries performing a cover of the Michael Jackson hit "We Are The World". It will be released on 12 May 2020 across all Bigo Live social media channels.
5/13
The main event is a 24-hour music livehouse on Bigo Live that will take place on 13 May 2020, starting at 9:00am PST. The music livehouse – a single 'room' on Bigo Live that will host the performances – will showcase broadcasters from around the world streaming right from their own homes or studios. Viewers will be able to engage and chat with the broadcasters as well as the community using the various features on the app. Viewers are encouraged to donate generously towards the fundraising efforts via the Bigo Live app.
Check out more event info on BIGO LIVE APP.
Follow BIGO ID: music