Sanjjanaa Galrani is an Indian model turned actor and philanthropist, who ventured into films as a child artist at 13 & debuted as a feature film protagonist at 16 in kannada film industry soon followed by a debut in Telugu films with Prabhas Raju directed by Puri Jagganath. It was her ad for fast track cooling glasses with John Abraham which made puri Jagganath identify Sajama. She gained major limelight with her Kannada film Ganda Hendathi which was a bold debut as it was the remake of murder in which she played Mallika Sherawat's role. On Bigo Live she is doing pretty well and has shown immense growth in 3 months' time. She already has over 50K fans on Bigo Live and can often seen doing lip-sync and playing PK with other top performers!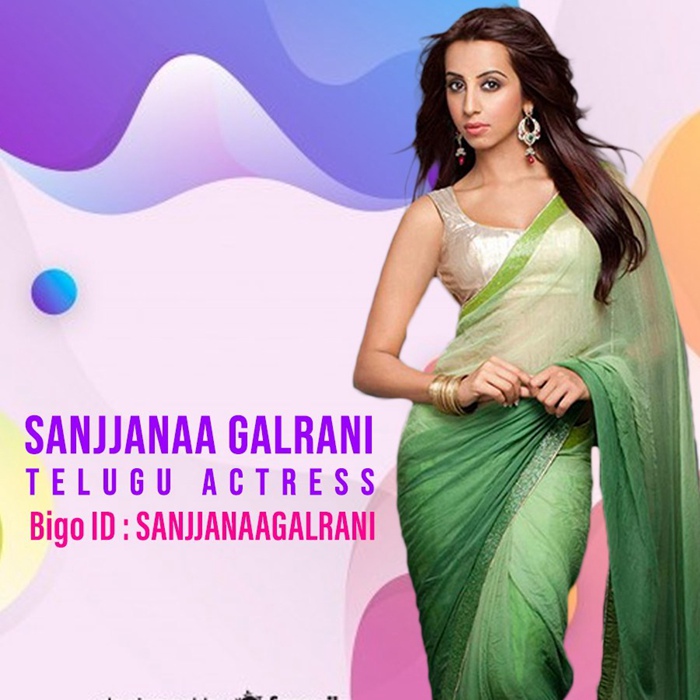 Quite recently, Sanjjanaa was seen lately in a reality TV show on colours 'Mujhse Shaadi Karoge' which got busted due to the outbreak of the coronavirus.
Sanjjanaa Galrani has had a strong career in movies in South Indian films. She gained major popularity with her films Bujjigadu opposite the Bahubali himself, Prabhas Raju . She appeared in many movies, king and Commisioner with Mamooty, in a film with Mohanlal called Casanova
and with Pawan Kalyan in Sardar Gabbar Singh. She has had a slew of hits alongside major superstars down south.
Her latest venture A women centric show in which she played a warrior queen, maharani mahadhatri is on voot application titled "Swarnakhadgam", this show was on air in 4 languages in south india on colours tamil, etv Telugu, colours bangla & colours Odia , produced by the producers of Bahubali – under the prestigious banner of Arka media works . The season 2 is soon to be shot in the upcoming months.
To connect with her on Bigo Live, download the App & follow her on Bigo ID: SANJJANAAGALRANI
💕More Streamers' Stories