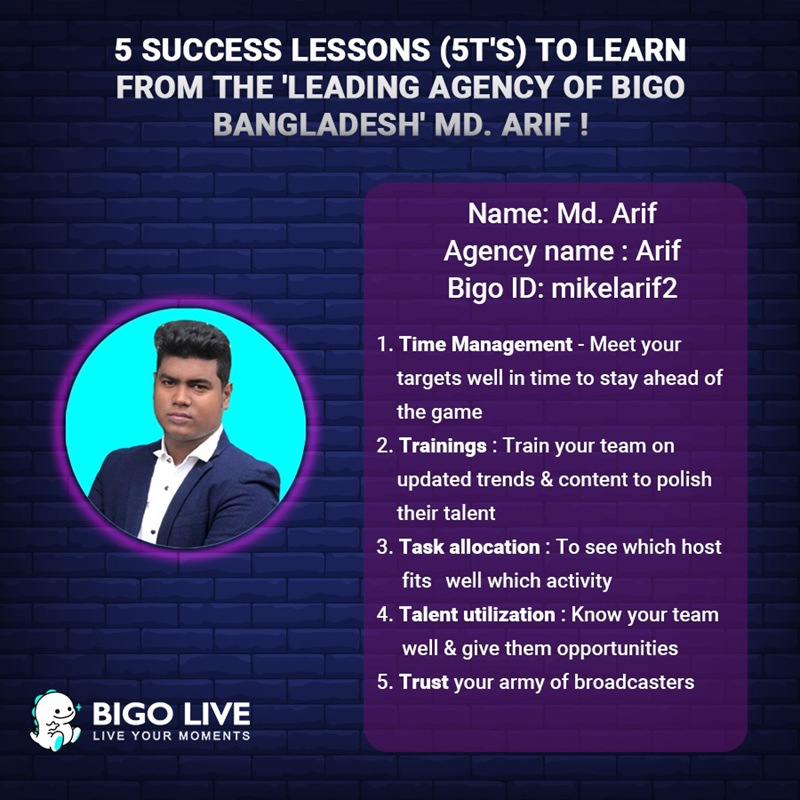 His journey from being a Goldsmith to one of the top performing talent Agency of BIGO LIVE BANGLADESH will leave you in awe !
'Influencers/Broadcasters' has become a buzzword with almost every youngster aspiring to become a content creator. Rise of Influencers, has also given birth to an ancillary industry which we call the Talent Recruiters or Talent Agencies. Following his heart, Arif started his journey nearly four years back on BIGO LIVE and today, he is the top-most recruitment Agency of BIGO LIVE BANGLADESH & one of the oldest Bigo Live users.
Arif, who hails from Dhaka, single handedly manages more than 60 talented Bigo hosts & motivates millions through his talented pool of musicians, dancers, comedians etc. Arif is now looking to hone his hosts into becoming digital brands via Bigo Live. He joined Bigo as a host, later got an opportunity to work as a recruiter because of his knack of talent, networking skills, passion for live streaming. Since he had been a host himself, he knew the target audience and how to build his own team. He manages the broadcasters with organized, highly targeted data-driven insights and targeted brand promotion.His ambition and dedication to his work has brought him 'Best performing Agency' of Bigo Bangladesh award.
"Thanks to my Bigo journey, I could give the Live streaming industry another edge by leveraging my entrepreneurial skills. Moreover, the feeling of ownership and monetary benefits that an agency gets, is really fascinating ! It's just like starting your own business with less risk & more returns !"