M4Sonic found it hard to believe he could reach up to 180,000 viewers in an hour, across the Pan Pacific, during his first livestream. The young DJ was also pleasantly surprised when he saw the number of fans sending him virtual gifts through the global livestreaming platform Bigo Live.
"It is unprecedented", He shook his head with a smile referring to his debut stream. "I never thought that livestreaming could open up a new untapped community for me. It was real time interaction with my fans. Unlike playing in a club where you hope that the listeners are enjoying; here, I know that they are actually enjoying my music through the feedback and comments I receive."
M4Sonic also expressed his thanks to Bigo Live and Razer, the leading lifestyle brand for gamers, for making it happen for him. Both of whom he feels resonate with his personal brand and persona. He has recently signed a partnership agreement with Bigo Live following the successful livestreaming sessions he held over the past month, to bring the relationship to the next level. He feels that this unique collaboration will only serve to open up more markets and opportunities for people to enjoy his music.
"It's not often that a DJ is signed up by a social media platform. This collaboration is one of a kind. I'm confident that it will be nothing short of successful", M4Sonic added.
The homegrown Australian electronic music producer and the world's number one Launchpad artist, who has played for global audiences at music festivals including Tomorrowworld and Stereosonic will be playing weekly on Thursdays and Fridays, under Bigo Live ID: M4Sonic.
M4Sonic believes that the current situation around the globe shouldn't keep him from creating great music for his fans and is thankful that technology is here to help him share the joy.
Send Virtual Gifts through Bigo Live with Razer Gold.
This partnership will leverage on one of the world's largest virtual credits platforms for games and digital content, Razer Gold. The virtual credit's offline-to-online payment platform provides a touchpoint for consumers to connect. During the stream, partygoers are able to purchase Razer Gold and utilize it to send virtual gifts and stickers. Razer will also be giving away coveted prizes like their gaming headsets and Razer Gold.
To enjoy the stream, please download Bigo Live, and follow the BIGO ID M4Sonic every Thursdays and Fridays, from 9pm to 11pm SYD time. To mark the start of this partnership, M4Sonic will play his well-known piece Weapon viewed over 47 million times on Launchpad, on Thursday 11 June. Updates will be posted on Instagram IDBIGOLIVEANZ.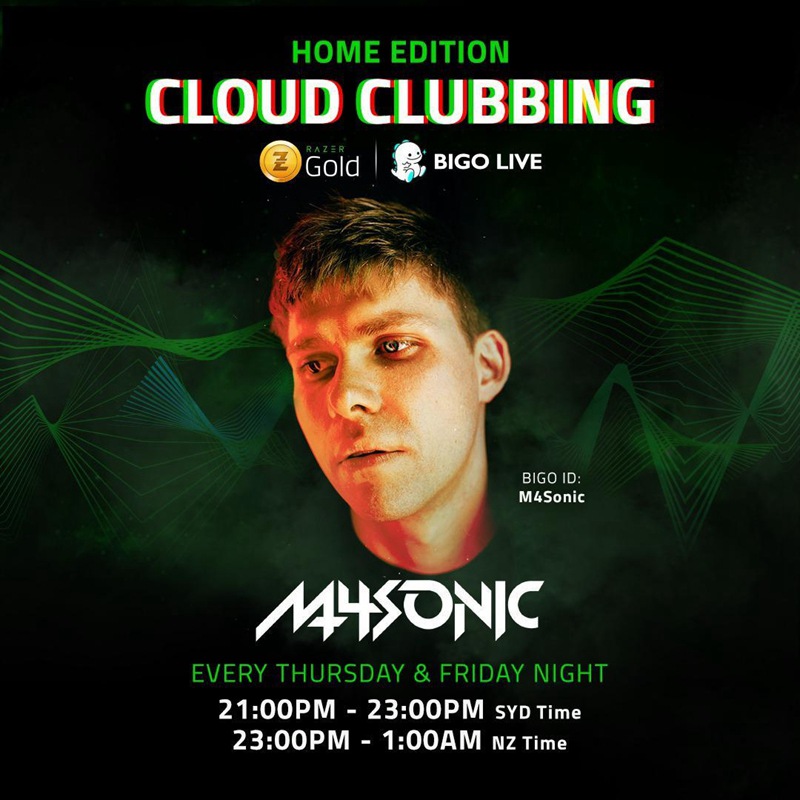 About M4Sonic
M4Sonic is an electronic musician and is considered the world's number one Launchpad artist. His first single "Weapon" released on YouTube in 2012 reached 1 million views in a few weeks. His subsequent tracks enjoyed similar success and his career took flight from there. He has since played for a global audience at music festivals including Tomorrowworld, Stereosonic and Vans Warped Tour. His most prominent global hit "The Fox" has raked in over 900m views on YouTube and the number continues to grow. He has recently launched his own record label, Global League and spends time teaching his fans the method behind his button pushing madness.