Live Streaming platforms allow you to broadcast your live stream and meet others around the world. Many companies today, including tech giants Facebook and Twitter, are investing in the development of live streaming platforms. However, do you know that Facebook, Instagram and YouTube are not the popular live streaming platforms in Korea.
Then, what's the best Korean live streaming platform? Here, we picked the 5 best Korean live streaming apps and platforms for you.
Best Live Streaming Apps in Korea
1. BIGO LIVE
BIGO LIVE has around 400 million users and is currently the market leader in the live streaming industry. With the strategy of 'globalization is localization', BIGO plans to establish a market position by implementing a segmented operation method by country, from Southeast Asia, South Asia, the Middle East to Europe, and from the East Pacific to North America.
Bigo Live has all features of a typical live streaming app. It allows you to share moments with the world by streaming; watch streams from other people from various countries, and even make friends while chatting.
As for the distinctive features of the app, it can be used as a Video Chat app. You will be able to start a one-on-one conversation with your friend or even a nearby stranger! In addition, you can add other users to the video chat, up to 12 people.
In addition, the application has many useful features, such as PK, 3D Avatar, and beauty filter.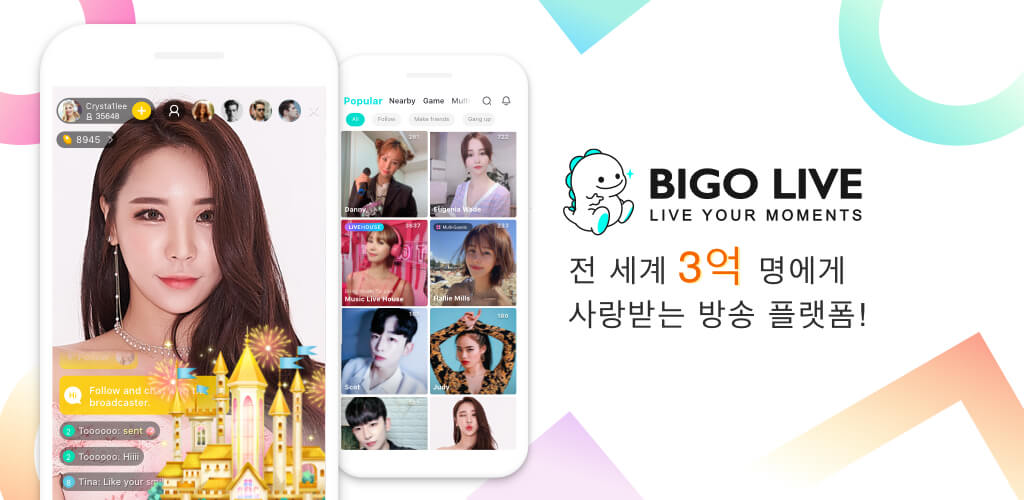 2. VLive
V Live or V app is a South Korean live streaming portal where idols host live streams to interact with their fans through chats. Other than that, you can also catch your favorite award shows, reality shows, and performances of your favorite idols.
V Live is a wonderful avenue for celebrity and fan communication. Fans are updated with notifications for the celebrities they follow and can tune in immediately to their favorite star's videos and life updates.
3. AfreecaTV
AfreecaTV is a live streaming platform from South Korea that was founded in 2006. Broadcasters on AfreecaTV are known as BJs or Broadcast Jockeys. AfreecaTV features video game streamers as well as IRL streamers. IRL content is made up of mukbangs, just chatting sessions, study sessions, and exotic dances.
Users can upload and view videos, live chat with other users, and participate in discussion boards.
4. Hakuna Live
Hakuna Live ranked ninth in the social entertainment category of "2021 Koreans' favorite mobile apps".
Hakuna Live is an interactive social live streaming platform where you can enjoy various contents such as daily sharing, quiz shows, rap battles, and casual games. As of December of 2021, it has been downloaded more than 10 million times on the Google Play Store, continuing its popularity.
This service supports 'multi-guest mode' and 'radio mode' where up to 4 people can broadcast simultaneously in a split screen.
Currently, the service is provided in more than 50 regions and countries, including the South Korea, United States, Japan, India, and Taiwan, in more than 20 languages.
5. Twitch
Twitch is the one of the most popular streaming platforms providing live game content along with videos and clips. The platform also showcases eSports, music broadcasts and creative content. You can stream content from categories like Arts, Food & Beverage, Science & Technology, Podcasts, and more.
To stream on Twitch, tap your profile icon in the upper right corner, enter the description and category, then click "start stream".
To Wrap It Up!
It is quite evident that these live streaming apps have revolutionized the whole concept of live streaming from anywhere and anytime. Today, people can go live anytime and anywhere. Not only has this helped people and celebrities connect with their fans on a different level, but it also helps them share opinions, talents, tutorials, and more in real time.
Of course, there are many more popular live streaming apps in the world. But if you are looking for good quality streaming platforms in Korea, then this is my list of recommendations for you!