The live streaming market is expected to reach 184.27 billion USD by 2027. Then, have you ever heard the BIGO LIVE app? If you are unfamiliar with Bigo Live, then keep reading this post.
In this article, you'll explore what BIGO LIVE app is, tackle its in-app features, and learn how to use Bigo Live to go live and watch live streams.
What is BIGO LIVE?
Bigo Live is a global live streaming social platform launched in March 2016 by BIGO Technology (BIGO) – one of the fastest growing Singapore technology companies powered by Artificial Intelligence.
Currently, Bigo Live has over 400 million users in over 150 countries, becoming the world's leading video live streaming platform.
On Bigo Live, users livestream in real time to share life moments, showcase their talents, and connect with people from all around the world.


BIGO LIVE History, Milestone and Achievements
In 2014, BIGO was founded in Singapore by David Li and Jason Hu.
In March 2016, Bigo Live was launched. It is available on both App Store and Google Play.
In April 2016, Bigo Live became the most downloaded app in Thailand.
In December 2018, Bigo Live reached 26.7 million monthly active users.
In March 2019, the NASDAQ listed company JOYY Inc. completed the acquisition of Bigo Technology.
In March 2020, Bigo Live ranked 6th in the United States and 5th worldwide for streaming apps, based on total in-app purchase revenue.
In early 2021, Bigo Live had 400 million users in more than 150 countries.
In 2021, Bigo Live reached 29.5 million average monthly active users in the second quarter of the year.
In 2021, Bigo Live ranked top 2 according to App Annie's 2021 Top Breakout Social Apps by consumer spending.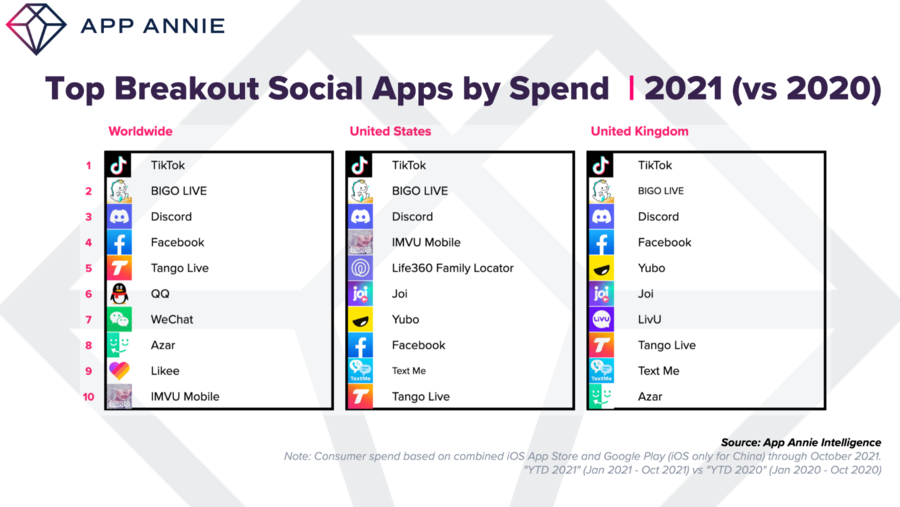 BIGO LIVE Main Features
1. Live Stream
We encourage people to share their daily life to the world and aim to build an active social community where people can communicate with videos contents. Just one touch to go live, you can show your talents and get your followers, receive gifts from your supporters.
There are 5 live stream modes you can choose from:
Live: This is the normal live room.
Multi-Guest Live: You can live with up to 12 people in multi-guest live room.
Virtual Live: This allows you to make a virtual appearance in 3D to start your live.
Audio Live: You can start an audio live (without showing your face) in audio live room.
Game Live: This allows you to start your game live streaming on mobile or computer.
2. Watch Live Streams
BIGO LIVE embraces millions of talented broadcasters globally. Whenever and wherever you open BIGO LIVE, there are always people broadcasting. Passionate dancers and singers, big eaters, comedians, as well as live streaming of popular games, such as PUBG, LOL, RoV, Fortnite, Dota 2, Hearthstone, Rules of Survival and more, etc.
3. Live Video Chat & Audio Chat
You can invite friends to have a 1:1 online video chat or even create group video chat or videos calls with up to 12 people via Multi-Guest Room. With the match up function, you can initiate a random chat with people nearby or meet new friends around the world. If you want to have more fun during the chat, plenty of video filters and stickers are available for you!
4. Live PK
PK (referred to as Battles) is real-time competition between streamers. The feature brings together two or more live streamers and their audiences for a live showdown. The competitors can challenge each other in a variety of categories ranging from music, to dance, to comedy and more. Each battle lasts only a few minutes. Whichever streamer earns the most diamonds by receiving gifts from viewers during the battle is declared the winner.
5. Bar & Communities
BIGO LIVE continuously works on building a global and inspiring social community. Everyday hundreds of thousands of users turn their lives and talents into creative pictures and vlogs and share on BIGO Bar. Also, you can find a lot of different communities and groups that you can join.
Summary
Bigo Live is a great social network platform that helps you kill the boring time and earn a living during covid-19 pandemic. Hopefully Bigo Live can bring you more happiness and money.
Don't hesitate to download Bigo Live.


Also, you may want to know how to use Bigo Live in details.